Just a quick note to let you know that the Grey's Anatomy official Writers' Blog has been updated - mostly talking about the "Good Medicine" special show at UCLA February 29. Here are excerpts of what executive producer / creator Shonda Rhimes writes ... follow the link to the official blog for the unabridged version.
~~~~~~~~~~~~~~~~~~~~~~~~~~~~~~
Oh my God, WE ARE BACK!
We are. Really. SERIOUSLY. Writers are writing away and we're all very excited about getting back to our Mer and Der and our Izz and our...  well, EVERYBODY.
Here's the thing: We have to write the episodes and the actors and crew have to shoot the episodes and the editors have to edit the episodes.
My point is, it's going to take a while to get from my typing fingers to your TV screen. Our first new episode will air at the end of April.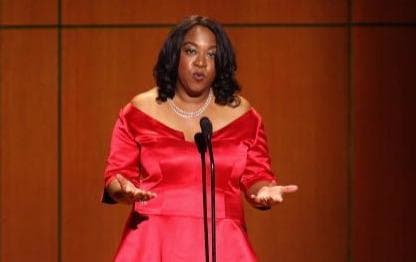 What will you do until then to get your Grey's Anatomy on? If only you could see the actors in person. If only you could go see them on stage, in person, talking and laughing and yes, SINGING for charity ...
YOU CAN!!!
For one night only, the casts of Grey's Anatomy and Private Practice are coming together for a live performance! An unforgettable evening of laughter and song to benefit crew members affected by the strike.
February 29, 2008 at UCLA's Royce Hall in Los Angeles, CA we are presenting "Good Medicine." A little singing, a little funny, a lot of raising money.
Come on out and join the casts of Grey's Anatomy and Private Practice. See T.R. Knight SING! Hear Tony Winners Audra MacDonald and Sara Ramirez! See Katie and Kate! See Ellen and Sandra!
SEE THEM ALL! CAUSE THEY WANNA SEE YOU! And help raise some money to help others! Tickets are $85. You can buy them on Ticketmaster.com or call the UCLA Central Ticket Office at 310-825-2101. I hope to see you there!
I'll be the one in the too-sparkly dress (I love sparkly to the point of tacky), looking pleased and proud of my kickass casts as they work to entertain you...
Steve Marsi is the Managing Editor of TV Fanatic. Follow him on Google+ or email him here.