Laura Saltman of Access Hollywood was one of the lucky few able to get a seat at
UCLA inside Royce Hall Friday as the Private Practice and Grey's Anatomy cast put on a charity show for crew members dubbed "Good Medicine."
She dubbed the show a combination of American Idol meets the SAG Awards meets "The Gong Show" meets your local high school's talent show.
Sounds like a ton of fun to us. Here's her review ...
~~~~~~~~~~~~~~~~~~~~~~~~~~~~~
The show started with a funny taped message from the one and only McDreamy himself, Patrick Dempsey, who said he was in Japan promoting Enchanted. With a wink, he couldn't miss a chance to plug the film, "Soon to be released on DVD."
Patrick Dempsey acknowledged how important the writers were to his show by joking, "Without them I'd still be known as that teen from Can't Buy Me Love."
Next to the stage was Dr. Izzie Stevens, Katherine Heigl, looking beautiful in a red knee length dress. Heigl, who is rumored to be leaving the show, revealed that all proceeds from the event would go to the Solidarity Fund started by the WGA.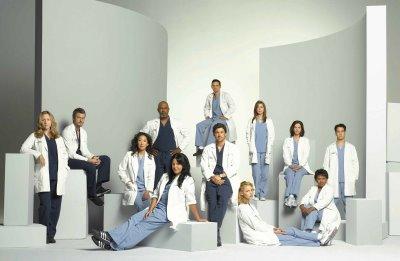 True Grey's Anatomy fans know that Sara Ramirez, who plays Callie Torres, won the 2005 Tony for her role as 'The Lady of the Lake' in Monty Python's "Spamalot." I knew this, but I still had no idea how well this chick can really sing! Her voice brought the house to its feet with a performance of the song "Meadowlark."
Ellen Pompeo took to the stage next to briefly thank everyone for coming and to introduce the next singer, T.R. Knight. We know him as George O'Malley but T.R. got his start in theater and has appeared on Broadway.
Just before he tackled the song "Losing My Mind/You Could Drive A Person Crazy" from Sondheim's "Follies" T.R. Knight begged for a little understanding:
"It's been 13 years since I've done this and I'm following Sara Ramirez."
While T.R. Knight didn't have the pipes that Sara Ramirez did, he still did a great job with the song and had fun doing it.
Out next was Dr. Erica Hahn, aka… Brooke Smith, with McSteamy, a.k.a. Eric Dane, looking extra hot in a black suit.
They introduced Dr. Miranda Bailey, Chandra Wilson, looking diva-liscious in a floor length black gown. Also a former Broadway star, she tackled the song "God Bless the Child." Although Chandra Wilson sounded pretty good, right about then I felt like I was watching American Idol: Grey's Edition.
I can only imagine what Simon Cowell would be saying.
Not to be outdone, the Private Practice docs had their chance to show off their stuff. Paul Adelstein, who plays Dr. Cooper Freedman, picked up a guitar and sang "Slip Slidin Away" and later busted out on the piano to "California Stars" with Tim Daly on guitar, Amy Brenneman on vocals (and the tambourine) alongside Chris Lowell, who as it turns out can play a mean harmonica.
A very, very tan Justin Chambers then joined Grey's Anatomy newcomer Chyler Leigh on stage where he revealed a little behind the scenes scoop.
Apparently the cast and crew have a little raffle going. Each week everyone writes his or her name on a five-dollar bill. They throw the money in a raffle bucket and whomever's name gets called gets the money that week.
Bringing the first act to a close was four time Tony Winner Audra McDonald, whose voice I can only describe as, "Wow!"
About 30 minutes later it was finally time for act two, which started with a message from Kate Walsh who said she was down in Australia promoting Private Practice. While getting a massage on her hotel balcony Kate joked, "We have all felt the affect of the strike especially in my neck and shoulders."
I'm not exactly sure when this was taped though because I do know that on Friday when this was happening Kate Walsh was on a plane to Utah.
Next out was the very handsome Taye Diggs to introduce a performance by Loretta Divine who plays the chief's wife on Greys Anatomy.
Also a Broadway star (she originated the role of Lorell in Dreamgirls), she tackled Whitney Houston's "I Believe in You and Me."
The night's laugh out loud moment came when the Chief, James Pickens Jr., dressed as James Brown (cape and all) came out to lip sync "I Feel Good."
The man's got some slick moves. It was all a rouse though to help introduce the real singer in his family, his wife, Gina Taylor Pickens.
Although she is a professional singer, this moment made me feel like I was attending a Christmas party where they throw an employee talent show.
Finally, Sandra Oh made a brief appearance, followed by the Grey's Anatomy and Private Practice creator Shonda Rhimes, who came to introduce the night's surprise guest. I was so excited because she talked this person up like she was Madonna. Instead, it turned out to be singer-songwriter Patty Griffin, who sang a beautiful rendition of the song "Up To the Mountain," but I had no clue who she was.
The casts came out together to thank everyone for coming and then Sara Ramirez was back to close out the show with the song "Grateful."
Steve Marsi is the Managing Editor of TV Fanatic. Follow him on Google+ or email him here.