If Ellen DeGeneres is a fan, good things will come. American Idol 7 hopeful and darling of the audition rounds Josiah Leming has reportedly inked a record deal with Warner Brothers, according to Reality TV Magazine.
You may remember Josiah as the sad-looking teenager who had been homeless for the better part of a year, traveling the country and sleeping in his car.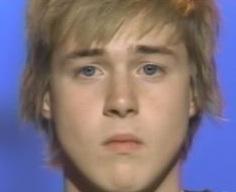 Josiah Leming was one of the final cuts before American Idol's Top 24, and after his elimination there was an unexpected outcry among fans.
Leming was one of the more unique singers American Idol has ever seen. He didn't have a technically sound voice (he sang out of tune a great deal of the time) but the distinctiveness was both undeniable and almost haunting.
It appears that Josiah Leming made a big enough impression on the industry, and now owns a record deal thanks to the exposure of American Idol.
Last week, Amanda Overmyer got the boot from the reality show, leaving just 10 finalists remaining out of tens of thousands who have tried out.
Matt Richenthal is the Editor in Chief of TV Fanatic. Follow him on Twitter and on Google+.