Here's a behind the scenes look at last night's American Idol results show, courtesy of People Magazine...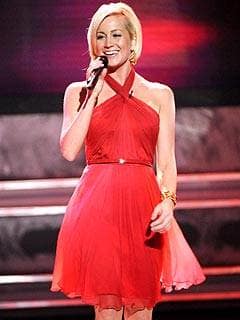 At the pre-show taping of season five favorite Kelly Pickler's performance of "Red High Heels," Ryan Seacrest jokingly reminded everyone just how much she has "grown in so many ways since leaving us." That's a boob job joke, people.
The former finalist came out to cheers in her conservative red dress â€" a contrast from her signature low-cut tops â€" and had the Idols, especially country crooner Kristy Lee Cook, rocking away!
The crowd loved the performance and got out of their seats to show it. Afterward Pickler humbly greeted fans in the pit, saying, "How are ya?" before shaking hands and waving goodbye. Later, still in her red dress, Pickler hung out off to the side with producer Nigel Lythgoe, watching the show on the monitor and discussing the recap of the previous night's performances.
Smithson Moved to Tears
When Ryan announced that strong-voiced Carly Smithson was in the bottom three, many jaws dropped. Carly began crying. D
uring the break, a sympathetic Seacrest made his way over to hug and comfort her, along with Debbie the stage manager. Then David Archuleta, Brooke White and Nigel Lythgoe went over to see if they could cheer her up.
Finally the fans got into it, yelling out words of encouragement to the Idol and succeeded â€" she smiled!
Matt Richenthal is the Editor in Chief of TV Fanatic. Follow him on Twitter and on Google+.