During his writers'-strike-induced hiatus from Grey's Anatomy, Patrick Dempsey whisked his wife, Jillian Dempsey, away for a romantic Italian getaway.
No kids. No cameras. And no reporters.
The couple took in a fashion show in Milan; then, in Lake Como, they were among many marveling at the estate of a famous resident: George Clooney.
"He's larger than life," Patrick Dempsey told USA Today. "I've met him a few times now, and he has always been very funny and charming. I like him."
Although he'd perhaps prefer comparisons with his idol, Cary Grant, it is Clooney with whom Patrick Dempsey has been compared since he rejuvenated a stalled teeny-bopper career by hitting it big on a prime-time medical series.
With his comedy Made of Honor hitting theaters May 2 and potentially solidifying his movie stardom for the first time since his late '80s hits â€" Can't Buy Me Love (as a dorky kid who hires a cheerleader to be his girlfriend) and Loverboy (as a pizza delivery boy who delivered a little something extra) â€" Clooney comparisons are back.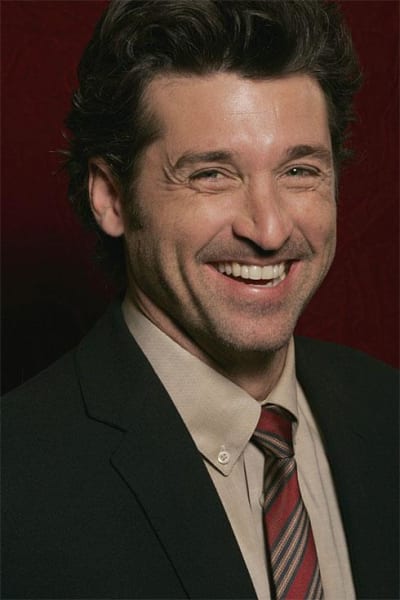 Patrick Dempsey has plenty to smile about these days.
Dempsey, 42, got an early jump on his leading-man status last year by wooing princess Amy Adams away from the charming James Marsden in Enchanted. Its $128 million take has producers dreaming up a sequel. But Enchanted was an ensemble.
"This is the first time I've carried a movie in a long time," Dempsey says over drinks at a corner table in the Four Seasons Hotel bar. As a result, he has been asking himself, "Can I pull this off? Will people come see it?"
"This is a very big film for him," says Made of Honor director Paul Weiland. "Patrick grew up in the (Hollywood) system, but I'm not sure he wants to stay in it forever."
Dempsey concedes that he "wasn't sure if Enchanted was going to work." So he sought a project that would be "light and different from Grey's Anatomy. With a broad-based appeal. Something that would do well commercially to allow me to cross over."
In
Made of Honor
, Dempsey plays Tom, who realizes he's fallen for his best friend since college, Hannah (Michelle Monaghan). But just as he's ready to tell her, she announces her engagement to a European man she only just met. Tom decides to pursue the girl of his dreams before he loses her forever. The problem: She has asked him to be her maid of honor.
Uh-oh
.
His life is a circus
Seasoned to addressing those old Clooney analogies, Dempsey is now having to face his new film's similarities to 1997's My Best Friend's Wedding, which found Julia Roberts in a similar scenario â€" sabotaging the wedding of her own best friend, with whom she had unexpectedly fallen in love.
To distance his character from Roberts' unlikable schemer, Patrick Dempsey committed himself to making Tom redeemable.
Scenes were tweaked to make the character more comical.
No problem for Dempsey, who once applied to Ringling Bros. and Barnum & Bailey clown college. He remembers filling out the questionnaire, which he says posed such quirky queries as, "How do you feel about small spaces?"
"But I was 17 and you had to be 18, and I didn't get in," he says, still seeming a bit stung.
Diploma or not, "clown" is the first word Weiland uses to describe his leading man.
"He has incredible rhythm," says Weiland, who surprised Dempsey by asking him just moments before shooting a scene in a Bloomingdale's to juggle plates.
"It was hilarious … and amazing. He has this smoldering, sexy thing going, but is also a comic. He doesn't mind sending himself up, and that's great."
He also can ride a unicycle â€" and mime, reports Monaghan, adding, "Patrick really is like a big kid."
The perfect package
At home, Dempsey's twin boys, Darby and Sullivan, almost 15 months, attempt to mimic Daddy's whimsical nature. And when the family visited him on set during the film's month-long location shoot in Europe, the actor found time to take his 6-year-old daughter, Tallula, horseback riding while rehearsing riding scenes that figure in to the film's comedic climax.
Monaghan says:
"People perceive him as a ladies' man for obvious reasons. But his family is the apple of his eye. In my eyes, he's the perfect package."
She was particularly impressed when she encountered Dempsey earlier in the day and received a compliment on her new haircut.
"The only man I expect to notice that is my husband," says the actress. "When another man does, that's a plus. He's very sensitive."
As for Patrick Dempsey's next film role, that's yet to be determined, but probably not another comedy right away.
"I have to be very careful what I do next," he concedes. "I need to find something different to keep surprising people."
Weiland suggests a small, art-house film. Monaghan would like to see him take on an edgy, dark role. But all that will have to wait. Because of the writers' strike, production will continue on Grey's without the traditional summer hiatus that allows actors time for film roles. Dempsey says there were opportunities he could not accept.
"And that's too bad," he says with a shrug. "But I can't leave my day job."
Or can he?
Most TV stars are signed to six-year contracts when they begin a series. Next year, Dempsey will begin Season Five.
Clooney checked out of ER after six years, having proved his big-screen appeal in films such as From Dusk Till Dawn, Out of Sight, Three Kings and, yes, even Batman & Robin.
Might Dempsey's Derek abandon his Meredith (Ellen Pompeo) in 2010?
"We'll see how long the show runs," he says. "And we'll see what happens at the end of my contract and if the crossover to films is strong enough."
Grey's co-star Katherine Heigl, he notes, has done "phenomenally well" balancing the show with her big-screen hits (Knocked Up, 27 Dresses). "She's off doing something else right now," he says of her 2009 romantic comedy, The Ugly Truth.
Patrick Dempsey has made it clear that he hopes to get his family out of Hollywood as soon as possible, in favor of a simpler life in Maine (where he was born), with perhaps a second country home in Europe.
That would be possible as a film actor (like Clooney), but not as a doctor on rotation at Seattle Grace.
"Especially with the boys, I think about it more and more to have some space for them to run around and not worry about it. I grew up like that, and I want that for them."

Could Grey's Anatomy continue without its Dr. Shepherd, just as ER has continued for nearly a decade without Clooney's Dr. Doug Ross?
"That's an interesting question," Dempsey says. "I don't think Grey's is the same type of show (as ER). I don't think you can keep capturing the magic."

Couple's therapy or wedding bells?
It could be a heartbreaking departure, now that Grey's Anatomy creator Shonda Rhimes has promised fans â€" and frustrated actors â€" that she is working Derek and Meredith into a stable relationship.
"God, I hope so," Dempsey says with a sigh, "because it has been tiresome to play that same beat over and over again. I think (fans) got fed up with it."
To be sure, any other couple would have decided by now to split or tie the knot. "Or jumped into some therapy together," he adds. "There is a new character coming on the show to play Meredith's therapist, and I think Derek should go with her. That would be fun."
And what of a McDreamy wedding?
"I don't think they're going to get married right away as far as I know," says Dempsey. "But I don't see any harm in it."
Dempsey's own wedding was a small, intimate affair in his family's Maine farmhouse â€" an approach he favors for Derek and Meredith.
Noting last season's elaborate wedding for Cristina (Sandra Oh) and Burke (Isaiah Washington), Dempsey says, "I don't think it will be a traditional wedding."
More likely, muses Dempsey, there'd be a traditional bachelor party engineered by best man Mark "McSteamy" Sloan (Eric Dane).
But, grumbles Patrick Dempsey, "He'd probably mess up the whole thing by having a bunch of strippers."
Steve Marsi is the Managing Editor of TV Fanatic. Follow him on Google+ or email him here.