We all witnessed the tears of Brooke White and Ramiele Malubay last night. But what did viewers at home not see during the broadcast?
A few interesting notes:
• Michael Johns dabbed the sweat from his brow moments after learning he was safe; he then took his spot on the couch next to fellow survivors Carly Smithson and David Archuleta.
• Ramiele Malubay — before learning her fate as the next Idol to go — wiped the tears from her eyes after watching the touching moments between former American Idol Bo Bice and the love of his life, his son, up on the big monitor.
• Kristy Lee Cook, after learning she was safe, handed the paper sign (which we found obnoxious) that read "Bottom Three" to a lucky fan in the pit.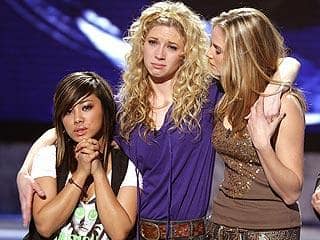 Matt Richenthal is the Editor in Chief of TV Fanatic. Follow him on Twitter and on Google+.