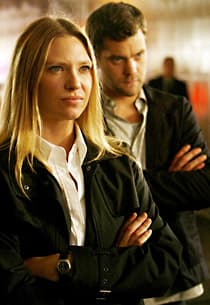 Do you have questions about Fringe?
If so, you're far from alone.
A number of fans have written in to TV Guide and had their inquiries answered by executive producer Jeff Pinkner. Check out the insider's responses below to a couple of burning Fringe questions:
TVGuide.com: First topic of conversation: The Observer... Is he human? Alien? Something else? Does it matter?
Jeff Pinkner: Of course it matters. He's not an alien. I think X-Files covered aliens really well. When we set out to do Fringe, we said, "No aliens." Everything will be grounded in observable or at least theoretical science. Though there are many paranormal theorists out there that believe that aliens exist, without proof we didn't want to touch it.

TVGuide.com: How was Olivia able to "touch" Agent Scott? Up until now, we've been able to dismiss his presence as a dream or hallucination.
Pinkner: If you recall, in the pilot, their brains were linked in the tank. Walter tells Olivia that portions of his memories are still in her head. It's essentially like a waking dream. If I took the contents of my computer and downloaded them into your computer, my computer would be residing in your hard drive. John is still residing in Olivia's brain.
Matt Richenthal is the Editor in Chief of TV Fanatic. Follow him on Twitter and on Google+.