Gossip Girl Spoilers: Aaron Rose Gone For Good!
Steve Marsi at .
You'd better be sitting down for this piece of Gossip Girl news revealed late yesterday:
Aaron Rose has gone to Argentina, which we know... and he's not coming back! Ever!
Try to contain your celebratory dances and other behavior.
Despite no ending seemingly written for the character's story arc, the CW has confirmed that December 8 ("O Brother Where Bart Thou?") was the last we'll see of John Patrick Amedori, who had played Aaron Rose in the past six episodes.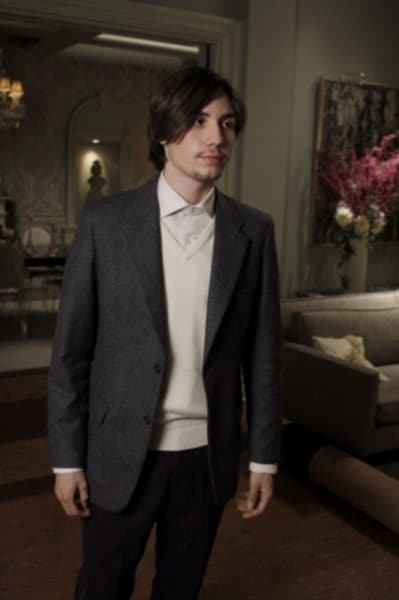 Gossip Girl has cut ties with Aaron Rose, artist of indeterminate age.
But why is he gone so abruptly?
And does Aaron's departure suggest that a long-awaited Derena reunion is right around the corner? Follow the jump for what E! Online has to say about the subject ...
"
Aaron Rose
was a big character in the
Gossip Girl
books, and I know the plan was for him to stay around a little longer," a source close to the show says.
"But some of the powers that be weren't responding well to the way the character was going."
Therefore, he is gone.
Sadly, though, for Dan and Serena fans, the departure of Aaron does not mean the characters played by Blake Lively and Penn Badgley are finally settling down.
Jessica Szohr tells E! exclusively that over the next few episodes, "Serena and Dan are running in circles with their relationship." So... the same as always?
Just as Serena is freed up, Dan will become entangled with a new lady, and from what we've learned from Gossip Girl spoilers, it looks like it may be new guest star Laura Breckenridge, the hot new teacher who flirts with Dan and tortures Blair.
What do you think of these Gossip Girl spoilers and revelations? Share!
Steve Marsi is the Managing Editor of TV Fanatic. Follow him on Google+ or email him here.