Flight of the Conchords has one of the quirkiest concepts on television but manages to have some of the funniest quotes on television.  We've gone through the first season of HBO's hilarious series, and captured some of our favorite Flight of the Conchords quotes.
Here's a sample of some of the best of season one:
Murray: I've told you. When you are in a band, you don't get with your bandmate's girlfriend. Past or present.
Jemaine: Yes, well, thanks for that.
Murray: You get a love triangle, you know, a Fleetwood Mac situation. Although there was four of them, so more of a love square. But you know, no-one gets on.
Jemaine: Ok, I see.
Murray: Mind you, they did make some of their best music back then.
Bret: Rumours
Murray: No. No, it's all true | permalink
Jemaine: It's not a cleaning cupboard, it's an apartment. It's my studio apartment.
Murray: More like a "compartment." | permalink
Eddie: The job is you have to hold up this sign and you have to make sure it points in the right direction. Now, does that sound like something you can do?
Jemaine: Sounds like something a lamp post could do | permalink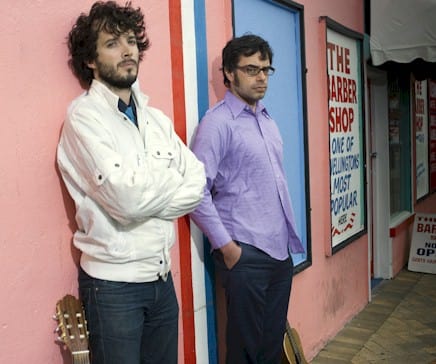 Bret: I have 15 dollars.
Mugger: Great, give me that.
Bret: It's in the bank.
Mugger: No! We don't have time to go to the bank.
Jemaine: We might just have time | permalink
Jemaine: You don't even know anything about threesomes.
Bret: Have you ever had a threesome?
Jemaine: Nearly.
Bret: What do you mean, nearly?
Jemaine: I've had a twosome. | permalink
Murray [referring to Quincy Jones]: What are some albums that he's done, Bret?
Bret: Michael Jackson's "Off The Wall".
Murray: I'll say he is...he's off the planet. Wants to freeze himself, doesn't he? | permalink
Eric Hochberger is the programmer of TV Fanatic, so please forgive his mediocre writing. His programming is far better. Follow him on Twitter and/or email him. Just don't request threaded comments. They're coming.