Last night was country night on American Idol. Each singer sang a hit from Nashville legends young and old (there was Johnny Cash as well as Carrie Underwood).
A surprising performance by Anoop Desai (below) may have been the night's biggest hit, while performers such as Adam Lambert and Matt Giraud were steady.
Megan Joy Corkrey also turned in a decent effort after tanking, as Anoop, on her previous Michael Jackson cover. Good for these underdogs for bouncing back.
Danny Gokey and Lil Rounds also held their own, despite not feeling comfortable in the genre, while Michael Sarver and Scott McIntyre may be done for.
Who do you think should go home on American Idol tonight?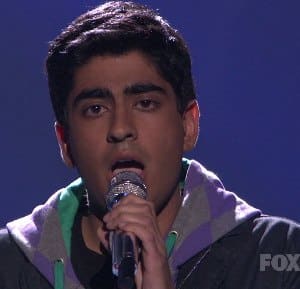 Matt Richenthal is the Editor in Chief of TV Fanatic. Follow him on Twitter and on Google+.