Grey's Anatomy Spoilers: Latest on Izzie
Steve Marsi at .
E! Online's Kristin Dos Santos has some interesting Grey's Anatomy spoilers today, mostly pertaining to the ailing, embattled Izzie Stevens. Let's get right to it:
Q: Is Izzie going to die on Grey's Anatomy?
A: Justin Chambers (Alex) tells us the Grey's Anatomy cast has four more episodes left to shoot of the current season but insists that he and his co-stars are still in the dark as to whether Katherine Heigl and T.R. Knight will leave the show. "I really don't know," he said. "I don't think so, but that's kind of between their managers and them, the writers and producers. But we sure love having them on the set. They're great to work with. It's a huge, successful show, and they're a big part of the success. Hopefully they'll stay."
Q: What does Izzie's illness mean for Alex?
A: Um, Emmy? Could be. From what I hear, Alex has some pretty gripping material. "I know that Izzy's not doing well, and so I'm there to support her and hopefully it will all work out," Justin Chambers says. "There are trials and tribulations for all the characters. It's good television."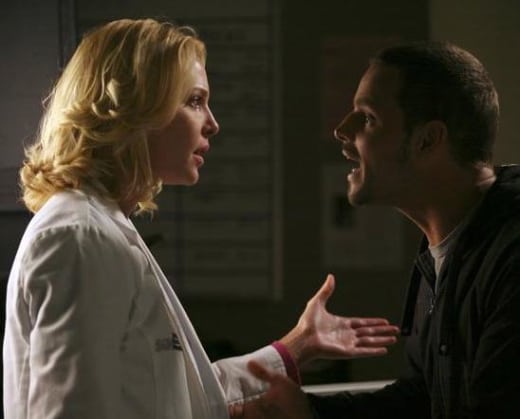 Q: Does Izzie really have cancer?
A: Grey's Anatomy spoiler alert! This Thursday, the interns discover what's wrong with "Patient X" (who is actually Izzie, or course), and according to Chambers, yes, it's the big dreaded C-word. I've also heard from some of you fans who happen to be members of the medical community, and Izzie's diagnosis doesn't sound pretty. Med student Tamara says: "It's not really a 'textbook tumor.' The Denny hallucinations are way too complex because they involve all five senses. If the disease has anything to do with that mole, then she has a malignant melanoma with brain metastasis, and that's bye-bye Izzie." A second fan who asked to be called simply "MD," agreed: "Izzie appears to have a malignant melanoma with metastasis to the brain." Breaking it down for you, that little mole is cancerous, and it's spread to her brain, and that is most likely lethal.
Q: Any new Grey's Anatomy news?

A: In the second-to-last episode of the season, we'll meet Ronnie, a "heartwarming" trailer-trash woman in her mid-to-late 40s, and the producers only want star names to play the part. Izzie famously grew up in a trailer park. Could this be her mother, come to Seattle to take her ailing daughter home? If so, who do we want to play Izzie's mom?
Steve Marsi is the Managing Editor of TV Fanatic. Follow him on Google+ or email him here.