The return of Holly has been rumored for months. Now it looks like it's coming to fruition, according to E! Online's Kristin Dos Santos in her spoiler chat today ...
Q: Is Holly Flax ever coming back to The Office?
A: Writer Mindy Kaling (Kelly) has finally confirmed that more Amy Ryan is on its way! "Amy's coming back [for] at least one this season!" Does that mean next season is an option too? And if any of you think Pam was lying when she told Michael that Holly still has feelings for him, Mindy wants to ease your minds. "I do not believe that our intention was to say that Pam was lying. I think it would be too cruel, ultimately." Anyone else just breathe a huge sigh of relief?
Q: Got anything on The Office?
A: I think Dwight might be getting a mini-me. Producers are looking for a new coworker who is described as annoying, arrogant, bossy, yelly, probably not good-looking and definitely not well-dressed. Wonder if he wears mustard-colored shirts.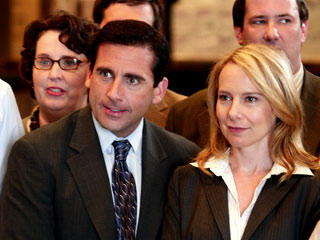 Steve Marsi is the Managing Editor of TV Fanatic. Follow him on Google+ or email him here.