It looks like it - but who could it be? Well, the person who blabbed that little secret to E! Online was none other than Phyllis Smith (Phyllis), who said this:
"I found out something this past week too, but I can't tell you that. It might develop in about nine months or so, so we'll see how it goes." Nine months?
It would make sense for Phyllis to get knocked up by Bob Vance. But could Jim and Pam also be the parties in question? Or an Angela baby daddy dispute?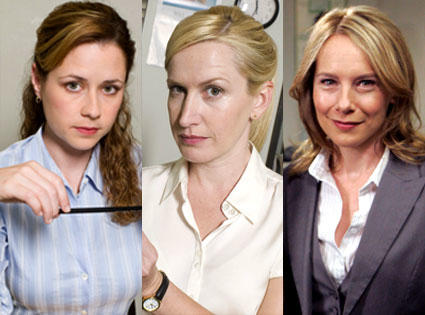 Here's what the cast said about the other Office couples...
Will There Be a Jim and Pam Wedding?
"I know that we're not breaking up any time soon," Jenna Fischer (Pam) said. "But I don't think there's a Jim-Pam wedding coming this season. I'm pretty sure there's not."
"I think there are some things in store for Pam and Jim that have less to do about their relationship and more to do about their personal pursuits, but they won't affect their relationship. It would be really contrived of us to try and come up with reasons why these soul mates aren't going to make it, because they're really suited for one another. And I think that there'll be some neat, fun things to watch them do as a couple."
Still, Jim himself is hoping for more. "Hopefully we get married," John Krasinski tells us. "Hopefully. If not, why are any of us watching if we don't get married, right? I think it's one of those things where the engagement was so special that we have to make the wedding equally special." Awww...
Will Michael and Holly Reunite?
Yes! At least, we'll see them sharing screen time, when Holly returns, and the entire cast is downright thrilled to have Michael's apparent soul mate back on the scene. "I thought Holly was the perfect woman for him," Phyllis says. "She was as dorky as he was really in a cute way. Holly is pretty special." Oscar Nuñez seconds that: "Amy's perfect. She's cute with just a little bit of dweeb."
Any Hope for Dwight and Angela?
"I imagine in season 14 when the show is called Accounting, Dwight will make a very special guest appearance and carry Angela out of there like in An Officer and a Gentleman," Rainn tells us. In the meantime, he reveals Dwight will go on some dates and that: "The wheels are falling off everything in The Office. The wheels are falling off Dwight; beets are falling off Dwight - things are getting a little out of control."
Steve Marsi is the Managing Editor of TV Fanatic. Follow him on Google+ or email him here.