The death of Kutner was still being felt throughout this week's episode of House.
Chase and Cameron reacted to the tragedy by getting engaged, while Wilson reacted to it by eating healthier.
Wait... what?
Read a detailed recap of "Saviors" to clear up any confusion.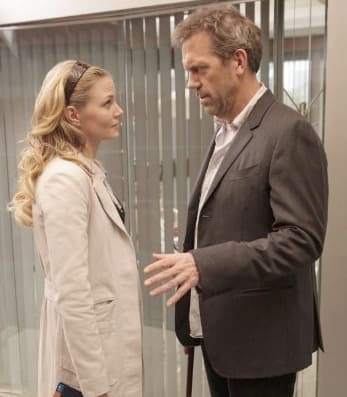 Below, check out a series of House quotes from this episode...
House: People only change after trauma, if they wanted to change before the trauma. Or if they've watched too many Afterschool Specials. | permalink
House: He loves a tree in Oregon more than he loves you. But he can't have sex with it. Unless it's that slutty oak outside Portland. | permalink
House: Who eats kale? It's so bland, it doesn't even taste like kale. | permalink
Thirteen: I guess we'll just continue to twiddle our thumbs.
House: God, I hope that's an euphemism.
Dr. Cameron: How am I supposed to do a lumbar puncture on a patient with intractable hiccups?
House: I'm trying to figure out what that could be a euphemism for. | permalink
Matt Richenthal is the Editor in Chief of TV Fanatic. Follow him on Twitter and on Google+.