Dexter returns to Showtime in the fall.
As reported earlier this week, the fourth season of this drama will jump ahead six months.
This means that Dexter and Rita's son will already have been born when the series premieres. As for other storyline details...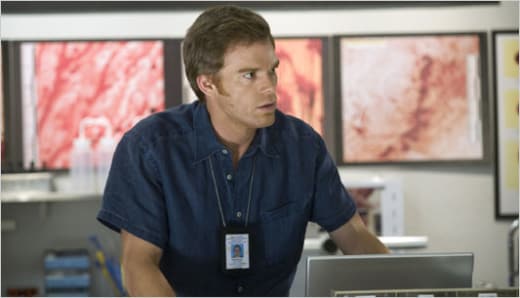 "This season, we're going to deal with: Can a serial killer juggle a personal life, work, and his 'dark passenger'? executive producer Sara Colleton told Entertainment Weekly. "In other words, can Dexter have it all? Which is something all of us grapple with every day of our lives. So we're taking something that is a very human dilemma and putting it through the prism of Dexter's special needs."
Colleton spoke on two other key plot developments for season four:
A new male antagonist will "cross paths with Dexter in a major, dramatic way... He will illuminate a lot about Dexter's life and force him to make some tough choices."
As for Deb: "All the way through the season, Deb - in her need to know her father more - is going to get closer and closer to figuring out who Dexter's mother was and her relationship with her father."
Matt Richenthal is the Editor in Chief of TV Fanatic. Follow him on Twitter and on Google+.