In a new interview with Sci-Fi Wire, Fringe creator J.J. Abrams answered a series of questions about tonight's season-ending episode and what's ahead on the show.
Abrams dropped a few hints about this evening's finale, "There's More Than One of Everything," along with next season's storylines...
On the season one finale: I can tell you that in the story of Fringe it is the end of one chapter and the beginning of another. If you look at this show as a series of stand-alone episodes, I think it even works in that regard, but because we're trying to do both - have a show that you can tune into any time and get a Fringe fix or you watch regularly and sort of ride the wave of the overall story, and see how things connect and fit together that you might not otherwise expect to - this feels like it is definitely one of the tentpole episodes in the mythology of the show.
The first season really was about the setup of this world, the characters, their roles, their jobs, and as the show went on I think we got more of a handle on their interactions and getting a sense of the rhythms of the show. But this is really a massive turning point in the long-term arc of the series.

On season two: I think the first year was about, not seeing the enemy, but getting to at least understand that there is an enemy. I would actually argue that, in a way, season two is getting to know the enemy. Season one is identifying that there is an enemy and really getting to know each other.
But I think that as the show progresses what you'll see in the second season is that it's building to a very specific type of confrontation, and I think you'll see that there will be a really interesting shift in the fundamental paradigm of the show at the beginning of next season, in a very cool way.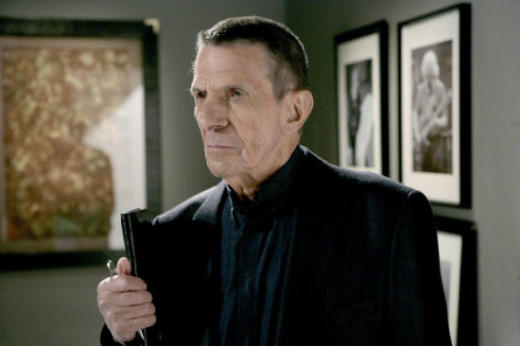 Leonard Nimoy debuts on Fringe, in the role of William Bell, on tonight's season finale.
Matt Richenthal is the Editor in Chief of TV Fanatic. Follow him on Twitter and on Google+.