On General Hospital, Alexis Davis (played by Nancy Lee Grahn) is about to encounter one serious confusing headache:
On June 4, her cute little daughter, Kristina, will age by almost a decade, instantly growing into a sneaky, rebellious teenager, Making matter worse?
She develops an unhealthy fixation on town mobster Jason Morgan (Steve Burton). Grahn spoke to TV Guide Magazine about the twist:
Q: [The new] Kristina is going to be obsessed with Jason Morgan. Discuss.
Grahn: Quel surprise. There's a long line of women with that problem. I don't think he's going to take advantage of the situation, though weirder things have happened on our show. I can see it now. Jason Morgan: Mobster-slash-Hero-slash-Savior-slash-Pervert.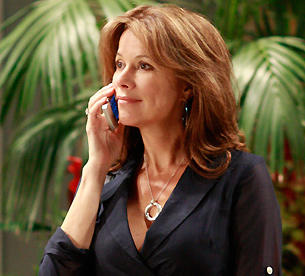 Matt Richenthal is the Editor in Chief of TV Fanatic. Follow him on Twitter and on Google+.