Most of the cast of House can take an extended vacation this summer.
They won't be needed until at least the second episode of the show's sixth season.
As previously reported, the fall premiere will be two hours in length.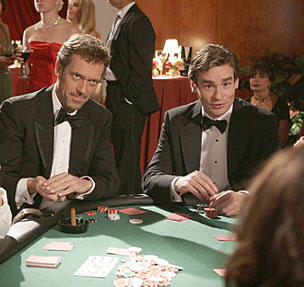 From playing poker to diagnosing patients, House and Wilson are as entertaining as any duo on TV.
Now, Michael Ausiello states that the episode will feature only two of the show's main players: House and Wilson. Look for everyone else to pop up the following week.
"It is a bold move," Hugh Laurie told Entertainment Weekly last week. "We are moving into our sixth year and I suppose the writers felt that we couldn't just reprise the same stories, the same sets, the same look, the same problems. We needed to go on an adventure, and this is it."
Matt Richenthal is the Editor in Chief of TV Fanatic. Follow him on Twitter and on Google+.