Mary-Louise Parker Dishes on Fate of Celia, Pregnancy and More
Matt Richenthal at .
Following one episode of its new season, Weeds has given viewers a lot to chew on.
Celia is bonding with her captor in Mexico; Doug and Silas have grand visions of pot growing; and Nancy is pregnant and alone.
In an interview with E! Online, star Mary-Louise Parker touched on all these storylines:
On Celia's fate: Have no fear, Celia lovers: Nancy' frenemy will be okay: "Celia's like a cockroach; you can't stamp her out," Parker said.
On Silas and Doug's pot plans: Will Nancy get involved with her son and friend's medical marijuana dreams? "I don't think so. In general, she dreams bigger than that. It's too safe and simple for her. [Her] things are generally more dangerous and have higher risk to them," Parker said.
On having another child: "She's not going to turn into a housewife. I don't think she'll be satisfied staying at home gardening."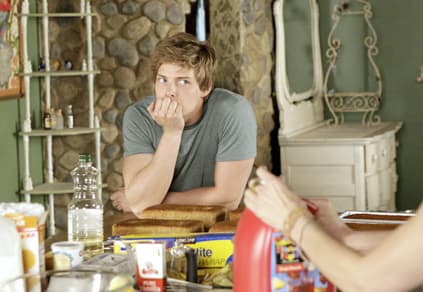 It's hard to blame Silas for looking at his mother in a new, confusing, less respectful light.
Matt Richenthal is the Editor in Chief of TV Fanatic. Follow him on Twitter and on Google+.