We don't exactly embrace Twitter as a source for television news, but this potential Lost spoiler is too juicy to ignore.
E! News has called attention to a Tweet by someone named Josh Cohen that reads:
"Lost Scoop: Charlie (Dominic Monaghan) returns for 4 episodes, Clarie (Emily De Ravin [sic]) for full-season, Shannon (Maggie Grace) for 6 episodes!"
It's worth emphasising, as we don't wish to lose credibility, that we cannot verify this source in any way. We can report that insider close to the show have said: "No deals have been made yet."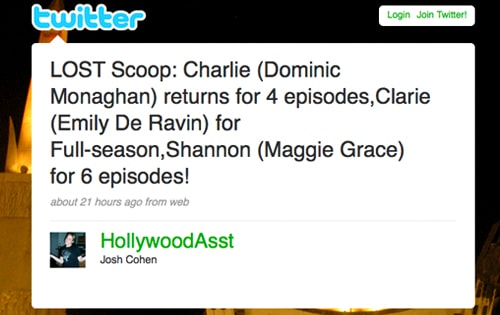 As for Charlie Pace, Dominic Monaghan is rumored to have landed a role on FlashForward. His rep won't let the Lost return rumors die, however: "He might or might not be back on Lost... You'll just have to stay tuned."
We will, trust us.
In the meantime, how could Charlie and/or Shannon come back? Many theorize that the explosion of the pre-built Hatch in the season finale will reset the series timeline. If that's the case, these character deaths never would have taken place and maybe everyone will be seen in their pre-island lives and...
... our heads hurt. February 2010 can't come fast enough.
** UPDATE: Maggie Grace's return is no longer guaranteed.
Matt Richenthal is the Editor in Chief of TV Fanatic. Follow him on Twitter and on Google+.