Below is ABC's Season 6 overview of Grey's Anatomy, posted on the show's official site and as a press release to sum up what the new campaign has in store for us.
It also serves as a recap of last season for those unfamiliar.
Here's the network's brief overview. Tell us what you think, and what you are most excited for as we prepare for the sixth season of Grey's just 25 days from now ...
~~~~~~~~~~~~~~~~~~~~~~~~~~~~~~
It seems like the doctors of Seattle Grace Hospital are always fighting for something, from access to cutting-edge surgeries to relationships to patients' lives.
And they don't always win.
After a long, hard struggle, Meredith Grey (Ellen Pompeo) and Derek Shepherd (Patrick Dempsey) may have finally won the battle for each other's hearts, sealing their love for one another with vows written on, of all things, a blue post-it note.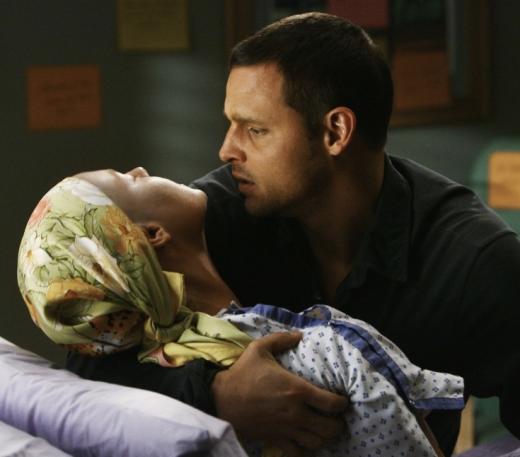 One battle the staff of Seattle Grace may be losing is saving the lives of two of their own, Izzie Stevens (Katherine Heigl) and George O'Malley (T.R. Knight).
And Alex Karev (Justin Chambers, pictured above), Izzie's new husband, is left holding his breath until next season's premiere along with the rest of us.
Meanwhile ...
Tough-loving Dr. Miranda Bailey (Chandra Wilson) is fighting her own battles. She faces the very real possibility of losing her husband over her extreme dedication to her career.
Cristina Yang (Sandra Oh) is fighting relationship fears while on-again-off-again boyfriend Owen Hunt (Kevin McKidd) fights the emotional scars that he brought home from Iraq.
Callie Torres (Sara Ramirez) is fighting for her family's respect as a new relationship with Arizona Robbins (Jessica Capshaw) blossoms into the healthy romance she needs.
Mark Sloan (Eric Dane) is trying to overcome his past and become a better man - with or without Lexie Grey (Chyler Leigh). Perhaps Lexie is too young for him after all.
Richard Webber (James Pickens, Jr.), The Chief, is fighting to keep his hospital together and to find some way to forgive himself for his past mistakes.
Grey's Anatomy can be as complicated as any neurosurgery, with episodes that will make you laugh out loud, cry your eyes out and cheer its victories - whether they involve saving a patient's life or sealing that kiss we've all been hungering to witness.
Steve Marsi is the Managing Editor of TV Fanatic. Follow him on Google+ or email him here.