Wasn't it great to see the old, dark Dexter back on this week's new episode?
While the family dynamic has been interesting and humorous at times this season, it's grown stale. We get it. Dexter needs literal time to kill, and he can't get it with Rita and the kids in town.
That changed this week, and the prey our favorite mass murderer chose to pursue made for a fascinating game of cat and mouse. Granted, the show - via visions of Harry - hit viewers over the head a bit too hard with the comparison between the woman that killed her family and Dexter, but Michael C. Hall knocked it out of the park during his kill scene, when he realized that he did care about Rita and the children.
You can read a full recap of "Dex Takes a Holiday" now.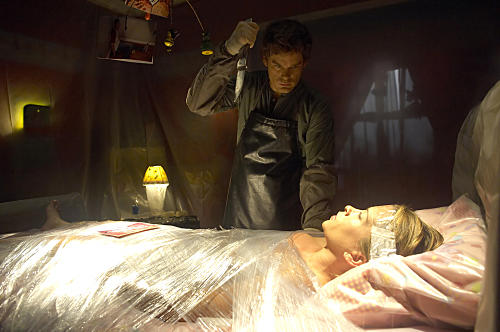 Meanwhile, sorry Lundy, but it was also nice to see you go. The Trinity Killer storyline needs to take front and center of the season now, as every scene with John Lithgow can only be described as "chilling."
We're sure he'll end up as the culprit, but would anyone be shocked if the show tried to hint at Anton as the shooter over the next few weeks? Neither would we.
Overall, we understand Dexter must evolve from season to season, but we hope the series doesn't ignore his Dark Passenger for this long again. It's one thing to hear him wax poetic about it with Harry.
It's another to watch it rise to the surface, as it did this week. Here's to hoping the show maintains a better balance/struggle between Dex the husband/father and Dex the serial killer going forward.
In closing, check out a few of our favorite Dexter quotes from the week:
Zoe: Are you the kind of sicko that likes watching a woman in pain?
Dexter: I'm not that kind of sicko, no. | permalink
Angel: I'm having intimate relations with Laguerta.
Dexter: Congratultions? | permalink
Harry: Why do you think Trinity has been so successful? He doesn't have a family.
Dexter: Well, I do.
Harry: Miss them yet? | permalink
Quinn: I know. My d**k's been making some bad decisions. | permalink
Matt Richenthal is the Editor in Chief of TV Fanatic. Follow him on Twitter and on Google+.