As Bonnie on The Vampire Diaries, Katerina Graham is slowly coming out of the shadow of her fellow stars.
While the show focuses heavily on Damon, Stefan and Elena, something is clearly going on with Bonnie and her family. We'll find out more soon, as Graham spoke to TV Guide this week about what's to come on The CW hit...
On comparisons to other vampire-based shows/movies: I just think it's different vibes. True Blood has such a Southern vibe and Twilight [is more of] a human, vampire and werewolf thing. There also isn't a witch. The first episode we thought was very similar to Twilight, but the second episode, it completely forks and turns. I'm so grateful to those shows because they're part of the reason that our show got picked up. They opened the door.
On Bonnie as a witch: She's a good witch. She would never hurt anyone. She's blowing things up and causing fires and certain things are happening because she doesn't have control over it. I don't think she's doing it to necessarily hurt anyone.
She's still Bonnie Bennett; she's still Elena Gilbert's best friend and the sweet girl who grew up in Mystic Falls, Virginia. But she's really doing some things that can hurt people. Just the thought of that terrifies her. Wait until you see the next episode; it evolves so much past anything you can imagine.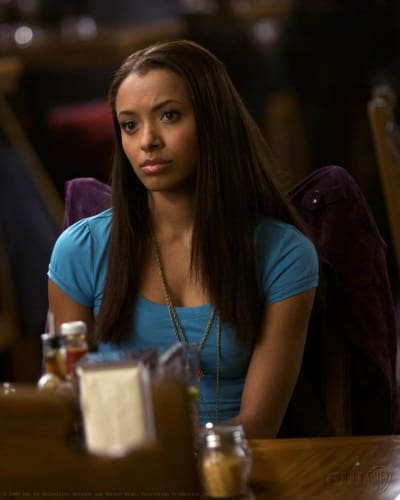 On future deaths: In our first meeting with the director and writers in Atlanta, we were sat down and we were told bluntly that this isn't The Elena Diaries, this isn't The Stefan Diaries and this isn't The Bonnie Diaries, this is The Vampire Diaries, and anyone can die and anything can happen.
Every episode somebody dies. Yeah, there are going to be a lot more deaths, a lot more sex, a lot more magic, and fire and power.
Vampire Diaries returns next week with an episode titled "Haunted." It looks great.
Matt Richenthal is the Editor in Chief of TV Fanatic. Follow him on Twitter and on Google+.