We're excited about this week's new episode of The Vampire Diaries, don't get us wrong.
But, based on various photos and spoilers that have leaked out regarding a couple other installments, it's hard not to look ahead.
Yesterday, for example, we posted about the show's Halloween episode, in which an "enormous" development is rumored to take place.
Now, The CW has released a handful of pictures from the October 15 show, which appears to be a major hour in The Vampire Diaries lore. Stefan will finally reveal the secrets of his past to Elena, which will include a series of flashbacks regarding himself, Damon and, yes, Katherine.
Said producer Kevin Williamson:
"We'll meet Katherine and learn the backstory. We get to see what Damon and Stefan's relationship was like in the 1800s and where it all went wrong. We see how the triangle got created, and how they became vampires. It's a big episode."
Click on the pics below for a cool look at these characters from back in the day. Way, way back in the day...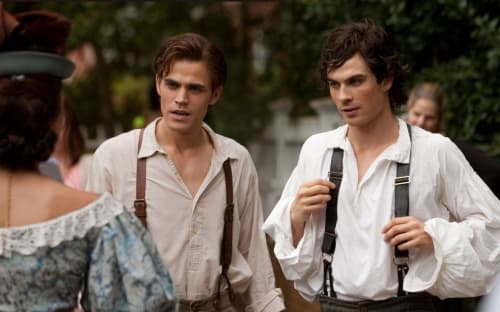 Matt Richenthal is the Editor in Chief of TV Fanatic. Follow him on Twitter and on Google+.