As we've been reporting in our Brothers & Sisters spoilers section for weeks now, Tommy Walker (Balthazar Getty) returned to SoCal last night, and certainly made an impact.
He also made mole. Dude is totally Zen now, having lived on a vegan commune in Mexico since the last time we saw him. But you knew Nora would bring out the old Tommy.
It was only a matter of time.
Follow the link for a recap of "Zen & the Art of Mole Making." Now, some thoughts on what was vintage B&S and what could have been improved on last night's episode ...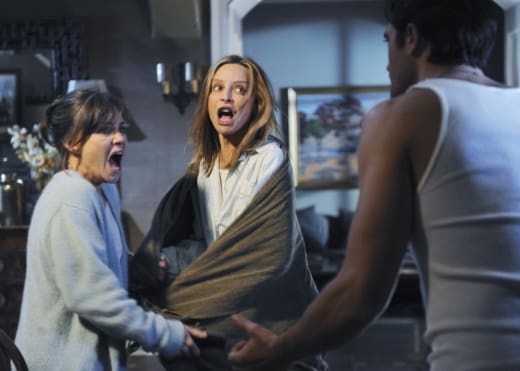 Tommy was kind of a jerk last night, but then again when was he ever not, and his return to the Walker household rekindled old memories (good and bad) in typical fashion.
As much as he's tried to turn his life around and find himself, the guy is a total mess, which was kind of the point, and Baltahzar Getty certainly looked the part last night.
First off, the opening scene in the kitchen (above) where Kitty and Nora were both terrified by Luc (Gilles Marini), who went on to attack "intruder" Tommy was just hilarious.
Next, the Walker phone tree that happens the morning after Tommy comes back was adorable and hilarious. Less adorable but equally real was Nora's subsequent freak-out.
Learning that Tommy plans to divorce Julia set his mom off, which set him off, accusing her of having impossibly high expectations and saying he gave up on meeting them.
The truth hurt, as it has a way of doing, for both of them. Ultimately, they worked it out, or at least took a step in that direction. Nora apologized for "giving Tommy away."
He went to Seattle to try to be a father to his daughter, if nothing else. Speaking of being fathers, Kevin wanted surrogate Michelle to sign a contract. Scotty freaked out.
Like Tommy and Nora, they were both right, and both wrong. Brothers & Sisters captures the nuances of complicated issues like this so brilliantly, week in and week out.
Scotty admitted Kevin was right to try to protect them. Kevin asked Michelle to reconsider bailing on them. Meanwhile, at Ojai, Holly's financial problems keep escalating.
We're not entirely sure where this story line is going, but sensing her weakness, opportunistic Dennis tried to get her to sell her shares of the company and she did not.
Way to go, Holly. We'll see where this leads. We hope.
RANDOM THOUGHTS
It was nice that Gilles Marini was still featured this week but on the outskirts. A sexy Frenchman he may be, but Sarah does have a life. This week, we saw that dynamic.
Sarah's kids, Paige and Cooper, got really big! The show is in Season 4, we suppose, but still. Kids. They grow up so fast. Before we know it they'll cast teenage Evan.
Matthew Rhys, who plays Kevin, is Welsh. His first language is Welsh. He may win Best American accent on TV (FlashForward star Joseph Fiennes being the worst).
Much as we love Robert (Rob Lowe), it was overdue that he would miss an episode for believability. The man is a U.S. Senator. He works in Washington sometimes.
Roxy Olin does a nice job as Michelle, Scotty's friend and would-be-surrogate. But given that she's an aspiring actress - and her folks, Ken Olin and Patricia Wettig, both star on Brothers & Sisters, it's impossible to take her seriously on The City.
Steve Marsi is the Managing Editor of TV Fanatic. Follow him on Google+ or email him here.