We're gonna come out and say it.  We love Community but we dislike Senor Chang the most of the entire Community cast.  That's a shame because Ken Jeong has been fantastic in the movies he's been in.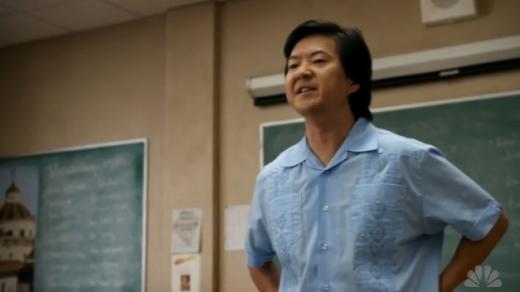 This week's episode, "Environmental Science," focused on Senor Chang and his past as the A story.  We really do appreciate understanding why Chang acts the way he does, but he's just too one dimensional and forced compared to the rest of the cast.  Which is strange to say for a show that love announcing its archetypes for its characters.
Luckily, despite a few lows from some of the scenes with Chang, the episode still proved to be one of the better ones.  There were moments during the montage that had us cringing from cheesiness, but, heck, we even loved that part.   Some great highlights from the episode:
Naming the rat "Fivel" and singing "Somewhere Out There?"  We loved the reference to one of our favorite childhood movies, An American Tail.
Troy and Abed are unbelievable together.  Giving them their own storyline?  Amazing.  Then giving them the credits and letting Pierce pop in for a good joke?  Perfection.
Sure the tough guy afraid of rats has been done before, but never hearing the popular guy claim it's because the rats are unpopular.
Finally Pierce gives some helpful advice to someone.  We were wondering how this guy was so successful in business before school.
After Chang gave out the assignments, Annie popping up in the window asking "This Monday?" was one of our favorite, most subtle parts of the episode.
Pierce sitting in Jeff's chair convinced that's the source of his power?  Then calling out Jeff at the end?
Man we love Community.  Even Chang can't bring it down for his.  Check out our favorite Community quotes after the jump.
Senor Chang: Pickled bull testicle?
Jeff: Are you offering or collecting? | permalink
Jeff: What makes you think I can make Senor Chang do anything if I can't convince you guys not to make me do it? | permalink
Dean: I'm here to kick off the first day of a new tradition at our school called Green Week
Pierce: What? First we get a month of black history, now we're blowing seven days on the Irish. | permalink
Troy: I'm not afraid. I choose not be around rats because they are unpopular. Same goes for centipedes and lakes. | permalink
Chang [about ex-wife]: You make no mistake about this, Winger. I pleasured that woman greatly.
Jeff: Yeah. You look like you would have to. I'm not surprised you said that. | permalink
Eric Hochberger is the programmer of TV Fanatic, so please forgive his mediocre writing. His programming is far better. Follow him on Twitter and/or email him. Just don't request threaded comments. They're coming.