Dexter, meet Trinity. Trinity, Kyle Butler.
Our favorite serial killer befriended Arthur Mitchell (aka The Trinity Killer) this week, disguising himself as a guy named Kyle whose wife recently left him. For a full recap of "If I Had a Hammer," follow our link now.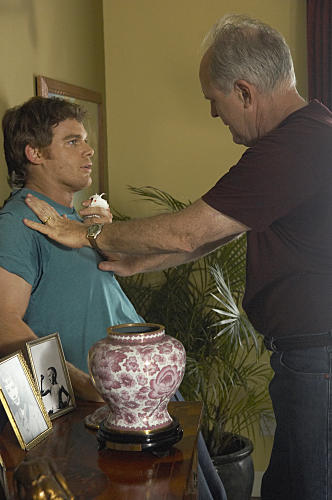 Similar to last season with Jimmy Smits and Michael C. Hall, we could watch Hall and John Lithgow interact for hours. We can't wait to actually do so as season four unfolds, but this is the one drawback to the show:
There's only so many angles Dexter can take. Each season, he gets close to someone similar to himself, only to end up taking this individual's life in the most entertaining, gory ritual on television.
Don't get us wrong, there are much worse formulas on TV than hire a well-respected guest star; make him creepy; introduce him to Dexter; watch the intriguing cat-and-mouse game that follows; rinse; repeat.
And this season might be headed for something new, as Jennifer Carpenter claims the finale will change everything. But we hope the show doesn't overstay its welcome. It's currently one of our favorites hours on television and it would be sad to see it grow stale.
What did you think of this episode? Review a few Dexter quotes from it below as you answer...
Trinity: This is my home. I can be myself here.
Dexter: You make it sound so easy. | permalink
Rita: A bread maker?
Dexter: We're always running out of bread.
Rita: We're always running out of milk, too. Did you get me a cow, too? | permalink
Rita: When he does talk to me, it's all lies, all the time.
Dexter: Not... all the time. | permalink
Dexter: Camouflage is nature's craftiest trick. | permalink
Matt Richenthal is the Editor in Chief of TV Fanatic. Follow him on Twitter and on Google+.