This wasn't our favorite episode of Glee.
For starters, it simply wasn't that funny. The subject matter was more serious than usual, we understand. But throw us a ridiculous Sue Sylvester quote or two! We watch this show to laugh more than anything.
We've recapped "Wheels" in full and will now explain our main issues with the episode...
A Wicked Mistake: For characters that claimed to be Wicked experts, Kurt and Rachel overlooked a key component of "Defying Gravity," the song over which they argued and competed: it's a duet! Yes, one part takes on the lead role, but there's plenty of room for two singers. We couldn't get this thought out of our heads as the pair clashed over who would represent the club at sectionals on the single.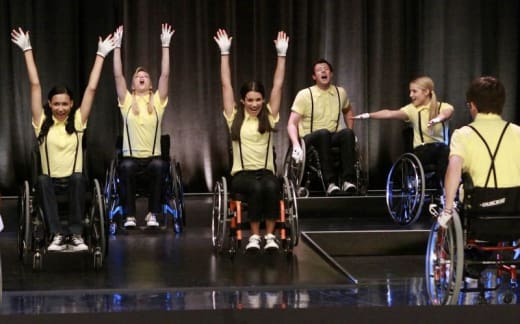 Sue Us... for saying this, but did we really need to be hit over the head so hard by Sue's soft side? This is a character we've loved to hate and laugh at/with. We would have been happy never seeing another side to her, but we understand the need to showcase one.
Still, the show could have handled it in a more subtle way. Jane Lynch was great in the scene with Sue's mentally challenged sister, but it felt heavy-handed. If Sylvester isn't back to cracking wise and making inappropriate judgments next week, we'll be very unhappy.
Pregnancy Problem: Both pregnancy storylines on the show are annoying enough (safe to say, we didn't miss Terri at all last night), but now we're really steamed: Can anyone explain why Quinn is staying with Finn? To save his friendship with Puck? As evidenced last night, Puck actually makes a more responsible father; and he and Quinn have better chemistry than she and Finn.
Puck had it right when he said Finn would eventually get over his friend's betrayal. But even if he doesn't, shouldn't the baby's future take priority here?
Overall, of course, even a subpar Glee episode beats most other shows on TV. It still had great music and it still featured the following great quotes:
Puck: $1,200. That's enough for the short bus and two cases of Natty Light for the ride home. | permalink
Sue: You think this was hard? Try auditioning for Baywatch and being told they're going in another direction. That was hard. | permalink
Artie: I wanna be very clear: I still have the use of my penis. | permalink
Rachel: Maybe one of these days you'll find a way to create teachable moments without ruining my life. | permalink
Matt Richenthal is the Editor in Chief of TV Fanatic. Follow him on Twitter and on Google+.