We're not even gonna touch on the Case of the Week from this episode.
We're glad the young patient will be okay and everything, but "Known Unknowns" was really all about an ever-maturing House. Follow the preceding link for a recap of the episode.
Granted, a mature House still drugs his best friend and gives a controversial speech under a false identity. But that's what makes this show and this character so fascinating.
He took an unorthodox approach, but every word House delivered to Wilson following these acts was spot-on. Moreover, House took such drastic measures for purely benevolent purposes. He truly wanted to save Wilson's career.
Would the old House ever have acted with an ulterior motive?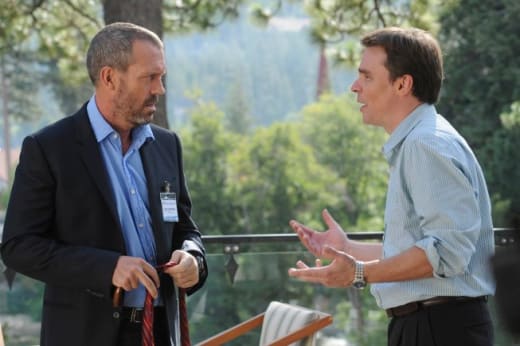 We have mixed feelings about the return of Lucas, though. Michael Weston was outstanding in this role when we last saw him.
But the obnoxious private eye seemed neutered this week, didn't he? It was an awkward situation, as everyone agreed, but we hope that soon changes. It would be a waste to bring this character back and then do away with his gleefully manipulative side.
What did you think of the installment?
A few House quotes we appreciated from the episode:
Dr. Wilson: That was my paper. You don't ask what I want, you ignore my wishes, you drug me.
House: I'm waiting for you to name something new to our relationship. | permalink
Dr. Wilson: Yes, you can sit her running up my hotel bill, or you can go get the woman of your dreams.
House: I didn't know Angela Merkel was attending the conference. | permalink
Wilson: We can't even argue on my schedule. | permalink
Lucas: Hey House.
House: Hey Lucas.
Lucas: This is awkward.
House: A bit. That will probably go away if I left. | permalink
Matt Richenthal is the Editor in Chief of TV Fanatic. Follow him on Twitter and on Google+.