This week's episode of The Venture Bros. wasn't as heavy on the laughs as the last couple weeks, but it came in extra strong on the character development.  And hey, how can you not love any episode that centers around the Monarch and his henchmen?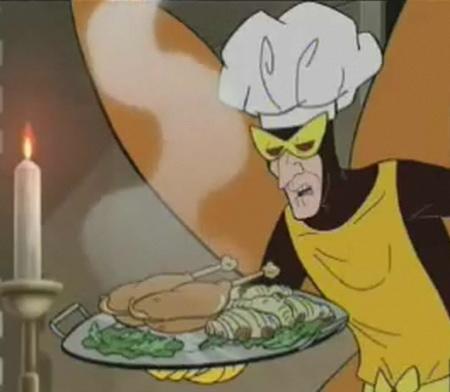 During the episode, Henchmen 21 kidnaps Hank and Dean, and immediately Sgt Hatred and Dr. Venture assume the Monarch is behind it.  They return to Hatred's old neighborhood, Malice, where they run into his ex-wife.  You can read all about it in our "Return to Malice" recap.
Now for some of our favorite parts of the episode:
Henchman 21's backstory from after 24's death to the present, only then releazing it was his cowardice that was responsible.
Someone finally revealing why the Monarch is in charge... only he has enough hate
We love the concept of Malice and are so glad to return to it!
Hehe, the return of Sgt. Hatred's full body tattoo and inappropriate placement of the D.
Anyone else reminded of Dr. Henry Killinger when they saw 21 whipping the cacoon into shape?
Of course, we'll do our weekly complaint over the lack of Brock.  When are we going to explore the SPHINX organization more?
For some of our favorite Venture Brothers quotes from the episode, just follow the jump.
Sgt. Hatred: Get up! Emergency! Our home has been violated!
Dr. Venture: What time is it?
Sgt. Hatred: Go time! I was downstairs, sitting in front of the computer masturbating, and then zip! This is sticking out of my neck, my clothes are gone, and the boys are missing.
Dr. Venture: Oh, my God!
Sgt. Hatred: Don't you worry! We'll get 'em back!
Dr. Venture: No, I mean, oh, my God, you just told me you were masturbating in front of the computer. That's foul.
Sgt. Hatred: Oh, what... and you don't?
Dr. Venture: Well, yeah, but I'm not proud of it.
Sgt. Hatred: Look, you can talk about your needless shame later. We have to rescue the sons. | permalink
Dean: All right, fine. But in the future, could you warn us before you do that?
Sgt. Hatred: In the future, the lazy Eloi will be living above ground. But underground, there will be cave monsters that use the above ground people for food. Dean, they eat them.
Dean: Now I know what happened to my copy of The Time Machine.
Hank: See, I didn't take it! I expect an apology. And also, I want a dollar. Emotional damage. | permalink
Dr. Venture: And here we are. Alone. What would the neighbors think?
Dr. Girlfriend: The neighbors are AuntiMatter, who's a spinster who shape shifts, and Flying Squid, he's pretty self-explanatory. So I don't think they'd find this weird.
Dr. Venture: I have a magic guy living in my house. And my former arch enemy is now my bodyguard.
Dr. Girlfriend: So, looks like what we made it. Exactly what my parents wanted for me. Guaranteed. | permalink
Sgt. Hatred: Look, I was in the Guild of Calamitous Intent. And I'm also a recovered pedophile. So if anyone knows the rules about young abducting boys from their beds, it's old Sgt. Hatred. | permalink
Eric Hochberger is the programmer of TV Fanatic, so please forgive his mediocre writing. His programming is far better. Follow him on Twitter and/or email him. Just don't request threaded comments. They're coming.