On this week's (okay, last week's, really... but these reviews will likely come later than most, due to the show's deal with DirecTV) episode of Friday Night Lights, characters dealt with change.
Most didn't handle it well.
Landry wanted to move on from Tyra, but his attempts at honesty and maturity were literally slapped down by Jess.
Tami was forced to recognize that Julie was growing up and would soon be heading to college. But while Connie Britton proved once again she deserves an Emmy, the character proved that she doesn't know how to let go very easily.
Lyla and Riggins rekindled their romance, but both acknowledged the harsh reality of their situations by the end of the episode: they may be perfect for each other in some ways, but they want wholly different things out of life in others.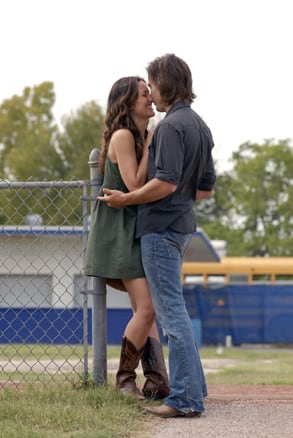 The main storyline, of course, focused on the realization that came to both Julie and Matt simultaneously: he made a mistake remaining in Dillon. By the end of the hour, he was on the open road, a slight smile on his face, limitless possibilities ahead.
It was understandable the show didn't wanna reach into the heavy, emotional well for Saracen two weeks in a row - and any episode would be a let down after "The Son" - but this ending felt too ambiguous.
First, the series subtly changed Saracen's motivation for sticking around. At the conclusion of season three, he had decided to stay in Dillon to take care of his grandmother, remember? Now, however, it's supposedly all about Julie; a plot device that makes his exit more rational, sure, but it also changes the character a bit. It makes him more weak than heroic.
Also, while Zach Gilford is expected back on the show at some point, this was a major decision for the character. We needed to see some interaction with Grams before he left. That's one of our favorite relationships on the show (though nothing beats Tami and Eric, of course; their interactions in bed, with Tami freaking out and Eric acting supportive/scared/humored by it all, were classic).
Read our recap of "Stay" now and let us know your thoughts on this episode.
Matt Richenthal is the Editor in Chief of TV Fanatic. Follow him on Twitter and on Google+.