On this week's episode of The Big Bang Theory, Wolowitz's relationship with Bernadette has proven to be more than the standard one episode arc most plot lines are given on this sitcom.
Wolowitz attempted to introduce and mingle Bernadette, who he now calls his girlfriend, to the gang and she seemed to get along a little too well with Leonard.  When she took an interest in Leonard's work, Penny decided to surprise him by making Sheldon tutor her in physics so she could understand as well.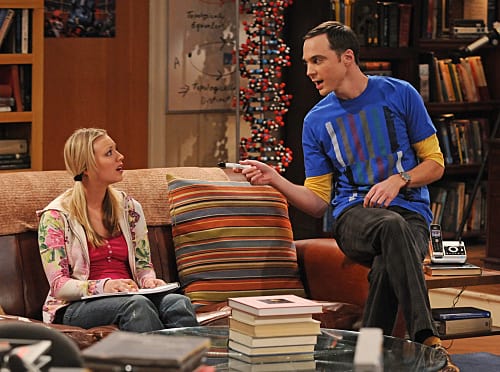 As a result we were treated to some of the finest Penny and Sheldon interactions we've seen this season.  Overall, "The Gorilla Experiment" was a great episode and here are our quick observations from the half hour:
Is it just us or does Penny spend more time interacting with Sheldon than her boyfriend?  No, we're not complaining.  It's hilariously awesome when she does.
Raj needs to get over his fear of talking to women!  He had no role in this episode and we miss the meaner, more sarcastic and funny Raj from this season.
We can see Sheldon getting frustrated, but was the college-ruled line too mean?
While Wolowitz was a bit crazy jealous, does anyone else think he was right and that Bernadette might have a thing for Leonard? The stud really might get the prom queen and head of the decorating committee.
Hmm, I had no idea Fig Newtons were named after Newton, Mass.  Who says you can't learn any Physics from television.
We have some of the best The Big Bang Theory quotes from the episode after the jump.
Leonard: The more the merrier.
Sheldon: That's a false equivalency, more does not equal merry. If there were two thousand people in this apartment, would we be celebrating? No, we'd be suffocating. | permalink
Sheldon: Where's your notebook?
Penny: I don't have one.
Sheldon: How are you gonna take notes without a notebook?
Penny: I have to take notes?
Sheldon: How else are you gonna study for the tests?
Penny: There's gonna be a test?
Sheldon: Tests. Here, it's college ruled, I hope that's not too intimidating. | permalink
Sheldon: Why are you crying?
Penny: Because I'm stupid!
Sheldon: Well that's no reason to cry; one cries because one is sad. For example, I cry because others are stupid and it makes me sad. | permalink
Sheldon [to Raj]: While I appreciate the "oh, snap," I'm uncomfortable having your moist breath in my ear. | permalink
Eric Hochberger is the programmer of TV Fanatic, so please forgive his mediocre writing. His programming is far better. Follow him on Twitter and/or email him. Just don't request threaded comments. They're coming.