The main plot of this week's episode of Two and a Half Men revolved around Chelsea trying to Charlie to take dance classes with her, while upon his mother's advice Charlie was trying to get a prenup out of Chelsea.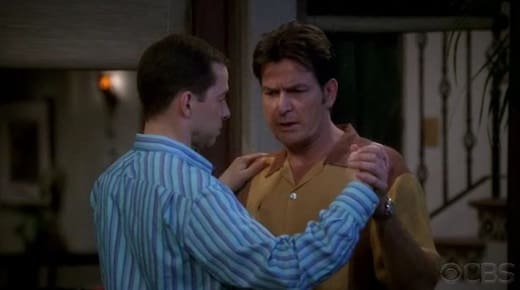 While we loved the twist on the latter when it turns out Chelsea has been hiding her money from Charlie and was more than happy to sign a prenup, this episode belonged to Alan.
The Alan scenes were completely subtle and they were simply him crying while watching his first wedding video.  The scenes of him dancing with his amazing hair and 'stache to "I Had the Time of My Life" with Judith might just win this guy a second Emmy. 
Oh man, and then Charlie stumbling out of the closet after sleeping with Judith's sister, an event that has been referred to many times in the show's seven seasons, was classic as well.  It's weird for anything to be subtle in Two and a Half Men or for it to be the highlight of the episode, but "That's Why They Call It Ball Room" impressed us.
Now for some of our favorite Two and a Half Men quotes from the half hour.
Alan: This mean she's financially well off and doesn't care about your money.
Charlie: Which makes me trust her even less.
Alan: What!?
Charlie: Alan, think it through. If she's not interested in my money, then why is she marrying me?
Alan: I have no idea.
Charlie: Exactly, we may have to consider the possibility that Chelsea is insane.
Alan: I see your point. | permalink
Charlie: Chelsea and I had a fight.
Alan: I'm sorry to hear that, did you want to talk about?
Charlie: I just did. Now go sleep on the couch.
Alan: Wait, if you and Chelsea had a fight, why do I have to sleep on the couch?
Charlie: You ever hear of crap rolling uphill? | permalink
Charlie: I am not middle aged.
Alan: Oh, I'm sorry...
Charlie: You, you're middle aged!
Alan: I'm younger than you...
Charlie: You're also broke, losing your hair, and sleeping in my hide-a-bed.
Alan: You always gotta bring a gun to a knife fight don't you? | permalink
Alan: Dance with me.
Charlie: Are you out of your mind?
Alan: I just want to give you a few tips.
Charlie: Keep your tip away from me. | permalink
Eric Hochberger is the programmer of TV Fanatic, so please forgive his mediocre writing. His programming is far better. Follow him on Twitter and/or email him. Just don't request threaded comments. They're coming.