Barring a last-second save by ABC, Better Off Ted airs its series finale next week.
Before we get too choked up bidding farewell to some of the funniest characters and quotes on TV, we'll alert readers about what to expect on Tuesday's final installment, "Mess of a Salesman."
Eddie McClintock (Warehouse 13) guest stars as Ted's brother, Billy. Ted gets him a  job selling lab equipment for one of Veridian's biggest suppliers - but this leads to a disastrous outcome.
Elsewhere on the show, a charity for girls (supposedly) supported by the company gives Veronica an award.
As you mourn the inevitable end to this great sitcom, enjoy the following photos from its final episode. Click on each to enlarge: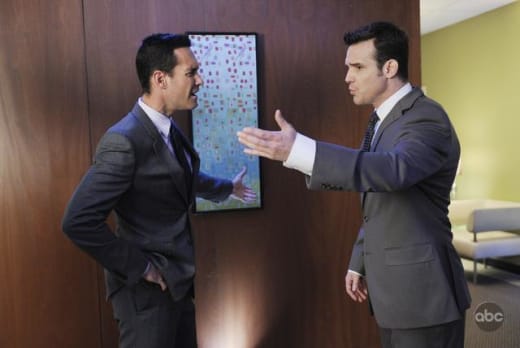 Matt Richenthal is the Editor in Chief of TV Fanatic. Follow him on Twitter and on Google+.