Watching this week's episode, Johari Window, one couldn't help but feel compassion for the townspeople of Edina.  Not only are they physically deformed on the outside, but are trapped in their town.  What a way to live, almost like being in their own personal prison.
Being a parent, this episode really tugged at my heartstrings. Watching Rose trying to protect her son Teddy... mothers usually only want the best for their children and it must have been difficult for Rose to watch her son live this way.  Teddy felt so trapped he was willing to try and run away, even with the consequence of living with his deformities visible to everyone around him.
People are so consumed with their outward appearance, making this episode relevant to our society and how we so easily judge each other. From fashion, to our obsession with celebrities, to our obsessive need to have cosmetic work done.... maybe, we can learn something from this episode. It definitely had me thinking.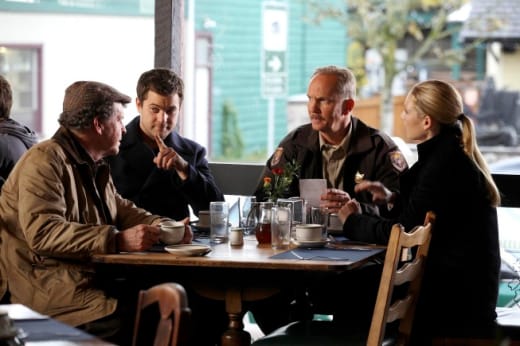 Walter's previous ties to the cases each week leave us puzzled.  How can he be tied to so many different scientific experiments and crimes?  Will Walter help the team finally figure out the "Other Side" connection to their own universe? 
We are total Team Walter fans, always enjoying the hilarity added by his character.  It is entertaining to watch his struggle with his broken mind, leaving us to wonder what will be next for the old brilliant man.
One negative about this week's episode is that it gave us no further information pertaining to the "Other Side" storyline.  We hope that next week's installment leaves us closer to finding Agent Dunham and Walter's link to the alternative universe. 
We leave you with a few of our favorite Fringe quotes from last night's episode:
Walter: Just because no one has documented flying monkeys or talking lions yet hardly means they don't exist | permalink
Olivia: Walter, were you involved in any military testing in Edina?
Walter: Not that I recall. I'm sure I'd remember something as exciting as human metamorphosis. | permalink
Walter: I'm learning to appreciate cowardice, The Lion had a point.
Peter: The Lion?
Walter: The Cowardly Lion.
Peter: But again, that was just a movie and there's no flying monkeys inside the grocery store. | permalink
Peter: You know me, I never miss a chance for a good conspiracy theory. | permalink