The new Fox show, Human Target, is based on a DC comic. 
In the pilot episode, we meet Christopher Chance: he's a bodyguard that disguises himself and puts himself in harms way to protect the client.  Kind of like a superhuman defender, doing whatever it takes to defend the righteous and battle evil – for profit, of course.
After watching the episode, we are totally captivated by Chance, and cannot wait for next week!  Chance is such a good looking, charismatic, courageous character.  He is willing to do whatever is needed to save his clients.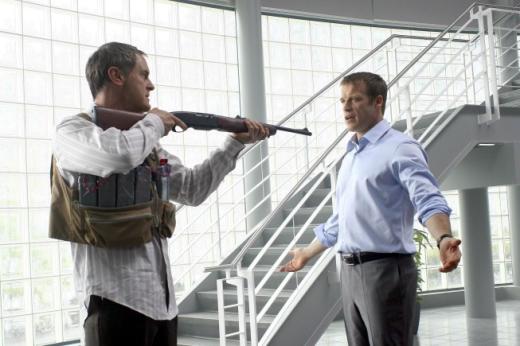 He is the new and improved MacGyver, making a parachute out of a tarp and seat belts. Who would ever think to do that?  Who wouldn't want a man like that to protect you!  Damn, he's got it all... and a cute behind to boot!
Because he is so good looking, we must ask: where is the woman in his life?  Will we learn about Chance's love interests?  Is there more than one?  With that face, probably!
One thing that got us thinking was, why would any man be willing to risk his life for a complete stranger?  Is it for the money or is he just suicidal?  Who would want to live life always dodging a bullet?  Sort of living everyday on the edge, you really never know when your time it up.  What a stressful way to live! 
Throughout the show, Chance keeps his cool in a very suspicious way.  How does he do that?  Is he really superhuman?  Only time will tell.
Does Chance have dark secrets in his past that would make him literally become a human target?  We are completely captivated by this new Fox show and cannot wait to learn more about what makes Christopher Chance tick!
Here are a few Human Target quotes from the pilot episode:
Christopher Chance: I work with a cover, blend in to the background, let you appear vulnerable so the threat reveals itself and then eliminate the threat. | permalink
Christopher Chance: You did something you regret, we are hard wired to do things we regret. It ain't going to change, its nothing to be afraid of and its certainly not a reason to die. | permalink
Stephanie: You wore a vest, where's my vest.
Christopher Chance: I'm your vest. | permalink