As we reported last week, Rob Lowe is departing Brothers & Sisters later this season.
Does this mean we can expect another heart attack in Senator McCallister's future?
Regardless of his exit strategy, Lowe apparently feels he's being underutilized on the ABC drama during the current Season Four and asked to be released from his contract.
The network granted his request and he'll leave at the end of the season. ABC does want to remain in business with Lowe and is talking to him about headlining his own show.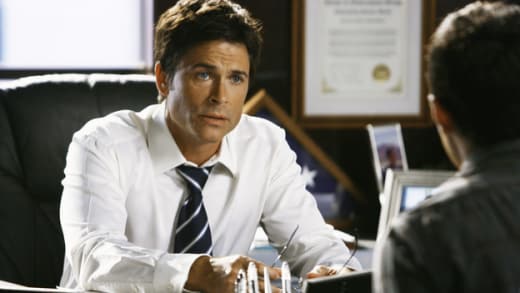 There's no word how Brothers & Sisters plans to write out Rob Lowe.
A Robert-Kitty divorce isn't exactly a far-fetched scenario given the couple's recent marital woes, but then again, that's already been explored, and somewhat repaired - the couple has actually come a long way lately and seems to be on great terms. Hmmm.
That leaves us thinking it could be a heart attack that does Robert in. You?
Steve Marsi is the Managing Editor of TV Fanatic. Follow him on Google+ or email him here.