We hate to say it, but this week's episode of Two and a Half Men may have been too cheesy and generic-sitcom for even our favorite generic sitcom.
The episode, "Yay, No Polyps!" started off just fine with Charlie making up an excuse of getting a colonoscopy to avoid visiting Chelsea's parents.  We especially liked the fun twist of Chelsea knowing Charlie was lying and flying her parents in to torture her fiance.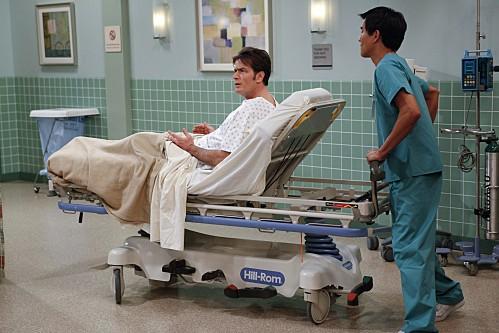 Our issue with the episode actually started when Chelsea's parents, Tom (Stacy Keach) and Martha came to visit.  While they were initially presented as good old fashioned bigots, Tom's obsession with homosexuals made it obvious that something was coming of it.
In taking the homophoebic plotline a little too far, Tom quickly outed himself at the bar and decided to leave his wife for his old Navy buddy.  Really?  We get that the guy already packed knowing he was planning to sneak away to visit his old Navy buddy and this wasn't exactly 100% spur-of-the-moment, but it definitely felt too forced, cheesy, and ultimately unfunny to us,
The only saving grace was for Charlie, who ended up getting away with his lie.  Overall, it was a very mediocre outing for this otherwise consistently funny show.  Now for our favorite Two and a Half Men quotes from the first half of the episode before it took a turn for the worse:
Alan: Okay let me see if I got this straight: in order to not spend time with your fiance's parents, you're going to let a doctor snake a camera up your kiester?
Charlie: I'd be willing to let them shoot an IMAX feature. | permalink
Charlie: I'm out of baby wipes.
Chelsea: I bought you two boxes of baby wipes.
Charlie: What can I tell you, babies don't crap like this. At least not healthy babies. | permalink
Chelsea [after colonoscopy]: How you feeling?
Charlie: Like a new fish at Leavenworth.
Chelsea: Don't be so dramatic. Good news is you have a clean bill of health.
Charlie: Yes, but I lost my water tight seal.
Chelsea: Yes, but you have peace of mind.
Charlie: Yes, but now I can't wear white at our wedding. | permalink
Tom: Hey Charlie, when we drove in I noticed a tavern down the road. What do you say we go have a drink and get to know each other a little better?
Charlie: Sure, I guess, but if you're on the fence about me right now, I don't think alcohol is going to improve my chances. | permalink
Eric Hochberger is the programmer of TV Fanatic, so please forgive his mediocre writing. His programming is far better. Follow him on Twitter and/or email him. Just don't request threaded comments. They're coming.