This show keeps getting better and better!
This week on Past life, two star crossed lovers had to overcome their tragic past to find each other.  On Soul Music, someone doesn't survive their regression therapy. 
Kate and her team try unsuccessfully to help Jenny and Kevin.  We must say that if one of the patients dies at the end, then the whole case must be considered a failure! 
As a romantic at heart, this episode was bitter sweet to me, sort of like Romeo and Juliet in a distorted way.  Kevin and Jenny's souls reconnect time and time again, to act out crimes that eventually result in their death.  What a depressing love story!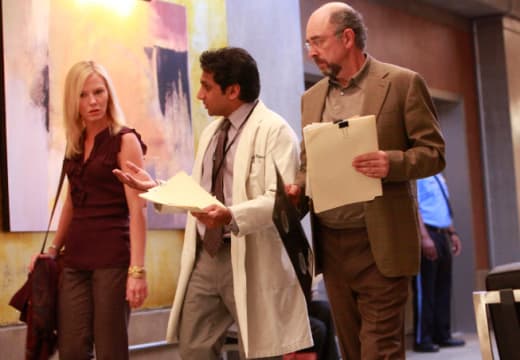 At the end of the show, Kevin losing his life and is shot by the police.  This show isn't there to just let you have the happy ending.  It makes the plot more believable, because in real life there isn't always a happy ending.
Throughout their entire investigation, Kate remained confident in her abilities to solve the case.  When Kevin died at the end, you see how heartbroken she is.  The writers did an excellent job making you feel her pain. 
Am I the only one that noticed the way Price looks at Kate?  I really feel these two are going to have some sort of relationship.  Price even comments about Kate's dress!  There is definite sexual tension brewing between these two.
Price feels compelled to check in on Kate after Kevin's death.  Apparently he already must have feelings for her, or why else would he care so much? 
Overall, Past Life is an entertaining show that deals with reincarnation and past life regressions.  It is the first of its kind, one that we see being around for a long time to come. 
We recommend that if you haven't already watched this exciting show, you make sure to catch it next week.  You will not be disappointed! 
Until next week, we leave you with a few of our favorite Past Life quotes: 
Price: In each lifetime Jenny winds up dead.
Kate: You're right. In the regressions Jenny feels like the victim and Brian like the attacker. He follows her, he seeks her out.
Price: Is there such a thing as a soul stalker? | permalink
Kate: It's open.
Price: Your not in Texas anymore dufus, you should lock the door. | permalink
Price: Are you going in that?
Kate: My dress? Why what's wrong with it?
Price: Nothing... | permalink
Price: You have to accept that the great Kate can't always fix everything. | permalink