Melrose Place returned to The CW last night, but that isn't the big news related to this show:
On March 30, fans of the original series can look forward to a reunion of cast members Daphne Zuniga, Heather Locklear, Thomas Calabro and Josie Bissett.
"We've had visits by original cast members throughout the year, and we all thought, 'Let's get them together in one show.' One of the highlights of the season for me was walking on the set to see all four original cast members together on the courtyard staircase... I think you can see in their performances how tickled they are to be acting together again," producer Darren Swimmer told E! News.
What brings Jo, Amanda, Michael and Jane together?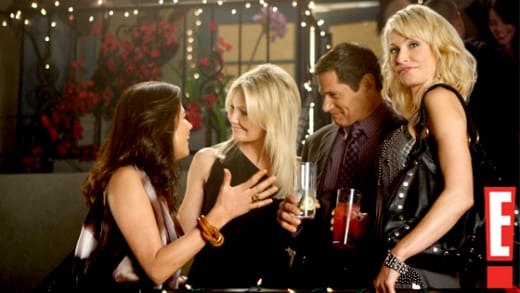 Look for Jonah to host a party in celebration of the pickup of his screenplay. The aforementioned quartet crashes it because each has a secret agenda:
Michael is threatening to expose Lauren.
Jane wants to find out why Amanda hasn't fired Ella yet.
Jo learns that Amanda is up to no good again and confronts her.
And Michael even realizes he may have made a mistake letting Jane go.
The new Melrose Place has not yet been picked up for a second season, so this reunion may be just what is called for.
Matt Richenthal is the Editor in Chief of TV Fanatic. Follow him on Twitter and on Google+.