When Seinfeld first premiere as The Seinfeld Chronicles on July 5, 1989, the pilot did not air to much success and NBC opted to not pick up the show.  Luckily, we can all thank Rick Ludwin, an executive at NBC, for finding the budget for four more episodes of season one and giving the show another chance in 1990.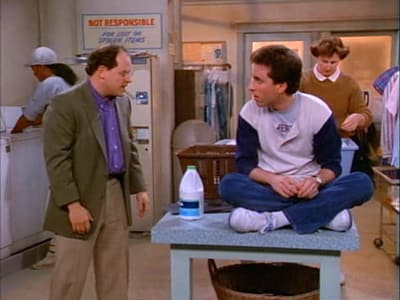 Of course, from there, Seinfeld took off to be one of the most critcally and commercially successful sitcoms, nay television shows of all time.  So really, what Classic TV Quotes segment would be complete without Jerry and the gang?
With that in mind, we present you our favorite Seinfeld quotes from the extremely short season one.  Whether it was Jerry stalking a girl outside her work in "The Stakeout" or Jrry trying to break up with a man in "Male Unbonding," the show had some pretty memorable episodes out of its five.
Without further ado, here's our favorite season one quotes:
Jerry: Let's face it, a date is a job interview that lasts all night. The difference between a date and job interview is not many interviews is there a chance you'll end up naked at the end. | permalink
Jerry: Women know what men want,men know what men want. What do we want? We want women! | permalink
George: (to Jerry) I can't believe you want to bring in an extra bed for a woman who wants to sleep with you. Why don't you bring in an extra guy too?! | permalink
Jerry: Wait a second That's her on the right.
George: I forgot who I am! Who am I?!
Jerry: You're you. We're having lunch with Art Corvelay.
George: Vandelay!
Jerry: Corvelay!
George: Let me be the architect, I can do it! | permalink
Policeman: Let's see, that's uh, one TV, a stereo, one leather jacket, a VCR and a computer is that 'bout it?
Elaine: Answering machine.
Jerry: Answering machine. Oh, I hate the idea of someone out there returning my calls. | permalink
George: She calls me up at my office, she says, 'We have to talk.'
Jerry: Uch, the four worst words in the English language.
George: That, or 'Whose bra is this?' | permalink
George: I know a guy who took a vacation on his change.
Jerry: Yeah, Where'd he go, an arcade? | permalink
Jerry: I think Superman probably has a very good sense of humor.
George: I never heard him say anything really funny.
Jerry: But it's common sense. He's got super strength, super speed I'm sure he's got super humor. | permalink
Elaine: What evidence is there that cats are so smart anyway? What do they do? Because they're clean? I'm sorry. My uncle Pete showers four times a day and he can't count to 10 so don't give me hygiene. | permalink
Eric Hochberger is the programmer of TV Fanatic, so please forgive his mediocre writing. His programming is far better. Follow him on Twitter and/or email him. Just don't request threaded comments. They're coming.