A lot of the pieces seem to be in place for Justified to be a complete show, but for two straight weeks we've been left with an unfinished feeling at the end of each episode.

This week's episode, titled "Fixer" followed Raylan's efforts to work with one of the US Marshals Office's informants, Arnold Pinter, and the subsequent kidnapping and attempted robbery of Mr. Pinter. 

What I liked this week is that we got some answers to how the show is going to progress.  Justified is going to be a show where, from week to week, each episode could be watched independently of the previous episodes.  Yet, for those of us who are series regulars, there is going to be some overlap (albeit very minimally so far) in the stories and development of relationships with the characters. 
Additionally, so far we're been treated to three different types of police work; a different one each week:

"Fire in the Hole" – trying to catch a suspect in the act
"Riverbrook" – attempted robbery
"Fixer" – informant work

This could certainly be a format that works.  By keeping the type of work that Raylan does each week different, it will help the show from becoming stale or repetitive.  Throw in a few long term teasers – such as opening with Raylan's father getting arrested or ending with Raylan and Ava's kiss – and the show should remain interesting.
The characters so far have been decent, but need some work.  Raylan is certainly entertaining and is carrying the show right now.  Like any good superhero, however, he'll need some side kicks.  Chief Deputy Art Mullen has been enjoyable with a number of good quips as well as a very believable authority figure in Raylan's life.  Joelle Carter's acting has been phenomenal which has given her character, Ava Crowder, an interesting role in the show.
After these two supporting characters, however, the cast has either been week or non-existent.  Deputy Gutterson had a few moments in "Riverbrook" but really has not been involved too much.  In her first major role, Erica Tazel has not been given much to work with for Deputy Brooks.  I think she quadrupled her lines in this week's episode. 
Justified
needs to continue to develop long term supporting characters (perhaps Raylan's father will fill this void in upcoming episodes) and then get solid single episode performances like the one turned in by David Eigenberg playing informant Pinter this week.  After a great beginning, unfortunately, Pinter was essentially written out of the episode by being kidnapped, but survived the episode without being shot or arrested.  Here's hoping he's a recurring character on the show because he added some much needed energy.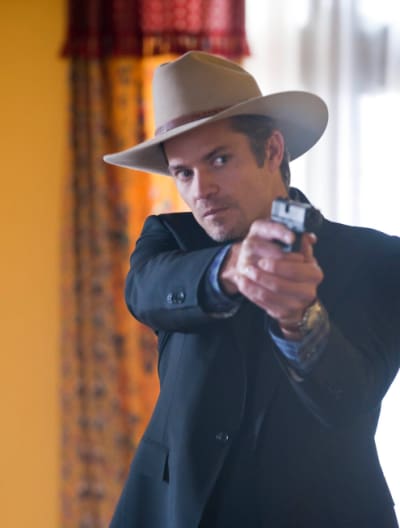 Taking the focus off of Pinter and putting it on the two ex-cons – Travis Travers and Curtis Mims – is exactly what has us feeling a bit empty at the end of "Fixer".  The plan put together by the criminals was very weak and thus difficult to believe.  Dialogue between the criminals was predictable and campy.  Including the waitress Samantha almost seemed like a waste of time because of how similar it was to forced female inclusion last week. 

The bottom line is that Justified has a solid based to build on: a solid main character, supporting characters that are coming along, a building long term story line and some decent likely one-off performances by villains.  What's missing is the individual story each week.

Tell us what you think.  Do you like the writing for Justified so far?  Is Ava Crowder one of your favorite female characters on TV right now too?  How can the show be improved?