A lot of meaning can be drawn out of the title of the series premiere of Justified, "Fire in the Hole."
First, and obviously, it speaks to what Boyd says to the people standing outside of the church before he fires his rocket launcher to blow up the building. 
The moment and decision by Boyd was an interesting one because, although it happened early in the show, it demonstrates a human side to someone already painted as a maniac. 
Additionally, it lends credence to Givens' assertion later in the show that Boyd didn't just randomly choose some church because he doesn't like the religion being preached there. 
Boyd was paid off by another drug dealer who is irritated that the pastor, who happens to deal drugs on the side, is basically given a free pass by the local authorities. 
Boyd gets to blow things up, something he likes to do, and get paid to do it, something we all like.
"Fire in the Hole" also speaks to Boyd's nature as a person.
We learn later in the show that no only did Boyd and Givens grow up together, they used to work in a coal mine together.
Boyd was a "powder guy" as Raylan calls him and used to install the explosives in the mine, light the fuse, and coming running out screaming "fire in the hole!"
Boyd, it seems, really,
really
likes to blow things up.
The title speaks to more than just the bad guy, Boyd Crowder, it also tells us a lot about our main character: Deputy U.S. Marshal Rayland Givens.  Our hero can't seem to stop finding himself in explosive situations.  However, much like a stick of dynamite, he won't explode unless ignited.  Givens warns three different people during the episode that if he's drawn upon, he shoots to kill. 
If you like a stick of dynamite, it is going to go off.  If you draw on Raylan Givens, he's going to kill you. 
Finally, the title as a very apt moniker for the start of Justified.  Although the show was a bit longer than a traditional hour television show, the writers did a good job of keeping the story moving and maintaining the viewer's audience.  As any good show should accomplish, there's plenty of drama and action mixed in with a bit of romance and a few great one-liners of comedy.
We discover that Raylan Givens has an old flame in court reporter Winona Hawkins, but they split up six years ago.  At the very end of the show, Raylan is found sitting at her dining room table in the middle of the night like a complete creep.  However, Raylan needs someone to talk to after killing two men in less than a week and only feels comfortable with Winona.  The two talk and have a light moment clearly indicating that sparks once existed, but Winona seems to be done with who she calls "the angriest man I've ever met."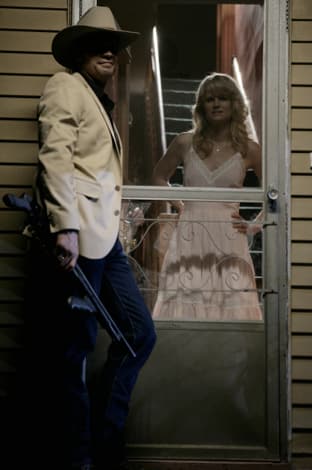 The sparks really seemed to fly between Ava Crowder and Raylan Givens and there's at least one person hoping they get together: me.  Actress Joelle Carter did a tremendous job as Ava, playing the stereotypical southern bell to a T and had Raylan on his heels the entire episode.  As Boyd says earlier in the episode, she's certainly a woman with some "spunk."
So tell us what you though of the premiere of Justified.  Did it work for you?  Does having the show reference itself twice bother you as well (we get it, Raylan, your shootings were justified)?  Are you rooting for Ava and Rayland to get together too?