Okay, so maybe we lied a little last week in our Two and a Half Men review.  It turns out Chelsea is definitely still not gone and managed to appear again this week.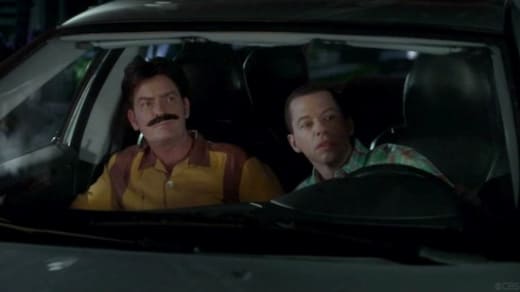 This time around, Charlie and Alan ran into Chelsea as she was on a date with Brad.  Luckily that awkwardness soon turned into a nice one night stand with Charlie and some amazingly hilarious lines by Jake.
We need more of this awkward teenager around.  Somehow Jake and Berta only had a combined couple minutes of screen time, yet brought some of the best Two and a Half Men quotes of the episode.
Speaking of screen time, Chelsea's father and his Navy lover continue to take up plenty of time beating the one-note dead horse of gay jokes.  We get it.  It's a funny set up.  Two manly Navy guys who turn out be queens. 
However, three episodes deep, the bit is no longer funny. At least their advice to Charlie is kind of cute, but we could easily ditch these scenes and be just fine.  Bring back the always amazing Jane Lynch as Charlie's therapist to dish advice, or even Evelyn over these scenes.
Okay, that's enough complaining because the episode certainly brought plenty of laughs.  Plus with a name like "I Found Your Moustache," you better believe Charlie's fake moustache turned up in the best of places.
You can read our favorite jokes after the jump.
Charlie: I'm gonna hate this movie.
Alan: How do you know?
Charlie: Because it has subtitles. The only good subtitles are for Nazis, drug lords and space aliens. Oh and kung fu. | permalink
Charlie: I can't believe she's already dating.
Alan: You're kidding right? The day after she moved out you ran off to Vegas to marry a stripper.
Charlie: We grieve in different ways. Besides, the stripper was already married so no harm, no foul. | permalink
Alan: Don't insult the green lifestyle. I work very hard to reduce my carbon footprint.
Charlie: You're a mooch and a miser, don't try and make it sound hip. | permalink
Jake: What's the deal are, they back together or was that just a booty call?
Alan: What do you know about booty calls?
Jake: In theory? Everything. | permalink
Eric Hochberger is the programmer of TV Fanatic, so please forgive his mediocre writing. His programming is far better. Follow him on Twitter and/or email him. Just don't request threaded comments. They're coming.