Viewers got it right on American Idol last night, but that didn't make it any sadder to watch Andrew Garcia and Katie Stevens go home.
The tears started flowing for Katie as soon as her name was announced at the conclusion of the results show, as Siobhan Magnus and Crystal Bowersox also cried over this young singer's departure.
Interestingly, those are now the only two female finalists remaining, following weeks of pre-show hype from judges saying this would be a woman's year to win.
It still might be, of course. Bowersox is definitely the favorite to go all the way.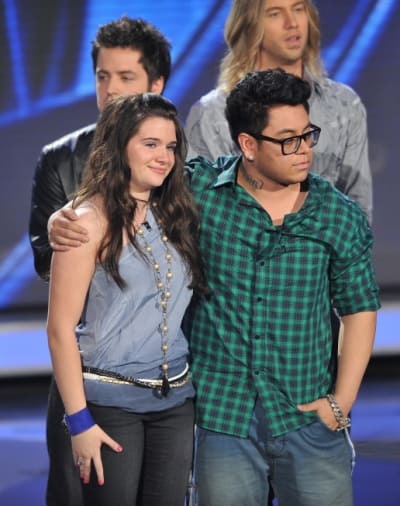 As for Garcia, he was humble and grateful: "I appreciate everything. I'm glad I'm here. I'm glad I've been through what I've been through. You guys let me experience something that I've never experienced."
Only seven contestants remain. Next week, they'll sing inspirational songs on Tuesday night and take part in the third Idol Gives Back special on Wednesday. It's unclear right now if anyone will be eliminated during that charitable edition of the show.
Meanwhile, Adam Lambert returned to the stage that made him a household name last night. Watch his laser beam-themed performance below.
[video url="http://www.tvfanatic.com/videos/adam-on-idol/" title="Adam on Idol"] [/video]
Matt Richenthal is the Editor in Chief of TV Fanatic. Follow him on Twitter and on Google+.