Claire Forlani is returning to The City That Never Sleeps.
The actress will soon reprise the role of Peyton Driscoll on CSI: NY, executive producer Pam Veasey told TV Guide this week.
The timing of this return will make things interesting for Mac, as he's only recently given in to his relationship with Dr. Aubrey Hunter.
"It's actually like he doesn't have to make the choice; it may be that these two women are trying to make the choice for him," Veasey said. "It's a great place for a character to be in: There's an old love who could return or a new relationship and new possibilities. These are two very smart, talented, attractive women that are in his life."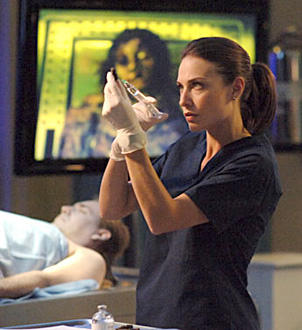 Later this spring, Peyton will come back when a colleague from Chelsea University becomes a suspect in a case.
Will the character learn about the other woman in Mac's life? Yes, but Peyton has history on her side.
"Peyton's really happy to see [Mac], and it's a fond memory for him," Veasey said. "It's a surprise for him when she returns... I think they both know that they're fond of each other still, that there's something that makes each other smile. It was a great relationship, and anything can happen when those feelings are sort of stirred again."
Matt Richenthal is the Editor in Chief of TV Fanatic. Follow him on Twitter and on Google+.