We're still reeling from this week's Lost episode.
What is the show truly about? What is going on with the Sideways world? We got many clues in "Happily Ever After," and examined each one throughly in our Round Table Discussion.
But it's already time to look ahead, as ABC airs a new episode on Tuesday. Titled "Everybody Loves Hugo," it's centered around our favorite portly castaway.
As the photo below reveals, Desmond will make good on his mission during the hour, visiting Hugo in his Sideways universe and, we assume, trying to explain what he and Charlie have seen and felt...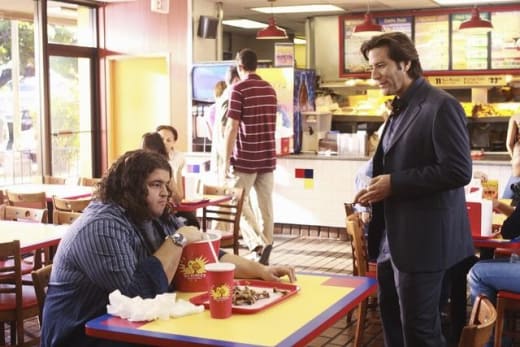 As for Hurley's life on the island, we can confirm that he visits Libby's grave.
Other than that, the pictures and clips below will need to suffice until the episode airs; after which, we'll once again review events and revelations in detail. We hope you join us.
[video url="http://www.tvfanatic.com/videos/everybody-loves-hugo-clip/" title="Everybody Loves Hugo Clip"] [/video]
[video url="http://www.tvfanatic.com/videos/hurleys-sideways-world/" title="Hurley's Sideways World"] [/video]
Matt Richenthal is the Editor in Chief of TV Fanatic. Follow him on Twitter and on Google+.