The American Idol finalists sang a pair of duets this week, both of which were praised by Kara and Simon with the following critiques:
"The duets tonight were incredible. They were better than all of the solo performances." - Kara
"They were a million times better than the solo performances." - Simon
It's safe to say this isn't a good sign, especially when we're down to the final four and at the point in the competition where singers should be blowing us away with memorable renditions.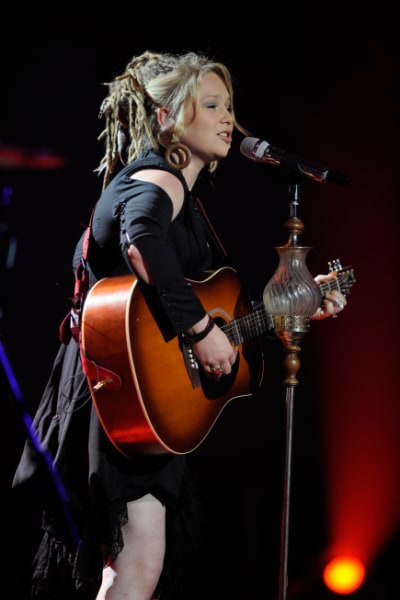 Instead, we were (mis)treated to another batch of mediocre numbers. Crysal Bowersox put on the best movie-themed performance, making a surprise selection of "I'm Alright" from Caddyshack.
For such a lackluster season, it's appropriate that its favorite is a woman that seemingly doesn't even care about Idol.
As for Casey James' cover of "Mrs. Robinson?" LAME! We thought we were over the inappropriate, unfunny joke about Kara's crush on this crooner. Instead, it was revived either by Casey himself; or, it wouldn't surprise us, by Fox, as the network must be clamoring for any way to bring excitement to the program.
It's hard to imagine anyone but Casey going home this week. Michael Lynche is the only other possibility, as part of the reason why the last few weeks have been so boring is the simple fact that Lee and Crystal are destined to meet in the finals.
Then again, Kara summed up Lee's take on "Kiss From a Rose" with: "It's one of most difficult songs to sing. But you can't take away from the fact that you are still great."
Really? He is?!? Even if he can't come through on a "difficult" song this far into the season?
We guess the bar really has been lowered to such depths. You tell us: Who was your favorite performer on the night?
Matt Richenthal is the Editor in Chief of TV Fanatic. Follow him on Twitter and on Google+.