Brothers & Sisters can be beyond soapy at times, with its loving, emotionally tender moments bordering on unrealistic. Give the show its due for realism Sunday, though.
Stark realism that hit home for millions of unemployed Americans and struggling businesses. Being TV, it would have been easy to snatch victory from defeat at the end.
Not so. It's "Lights Out" for Ojai Foods, literally and apparently for good.
There wasn't much uplifting in Sunday's episode, which either set the stage for dramatic reversals of fortune or a truly dismal season finale. Either way, it was well done.
It's not just a building, it's our history. This was Nora's plea to save the building - not the company, but the actual, physical building - as Ojai Foods was closing its doors.
Grasping at straws and feeling like a part of them was being amputated, the family was reeling with the rest of the employees after Sarah briefed them on the bad news.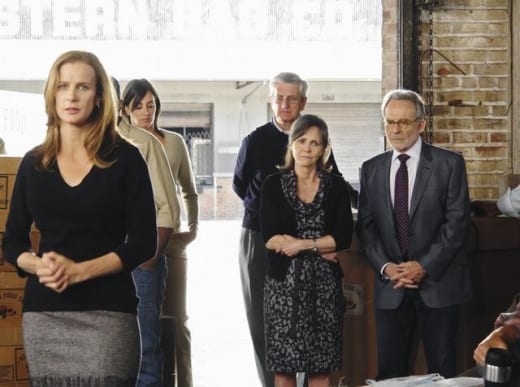 Sarah announces the new round of layoffs ... which include everyone.
It was a fascinating look at a company torn apart amid these turbulent economic times, which continue to surprise. Even a rock like Ojai isn't immune to the new landscape.
How do people react? If you're Sarah, you go almost too far out of compassion for your employees, bartering with competitors for open positions and selling off the building.
Sarah feels responsible for Ojai's demise, and even considers selling her house to help people make ends meet. She's losing it, but there exists no blueprint for this scenario.
Speaking of blueprints, they check out original ones for Ojai, and find a second set labeled ... OMG ... "Narrow Lake." That's where William wanted to build a house for Nora.
Sarah says it's more than a house, it's also a love letter from William to his wife. That's great, but is there a ray of hope for the Walkers with this Narrow Lake investment?
Meanwhile, Holly has a job interview at Maddox Thompson Foods. She's overqualified, like so many middle-aged professionals in the current economic climate. Very topical.
Rebecca is also looking for a new job, while Justin wants to go to Haiti for a year so he can get medical school credits. These two are drifting further apart by the minute.
Aside from other reservations about the Haiti position, Rebecca is reluctant to embrace it because of a follow-up interview for this new job, which she ends up getting!
Too bad Justin didn't know, and it was the same job Holly was going for.
Somehow we don't see good things ahead for Rebecca and Justin. Recent events have only made their relationship more turbulent, and a separation seems imminent.
Finally, Robert secretly meets with contractor Bill Stanton, the shady guy he's been assigned to bring down, and it's clear Robert has officially entered uncharted waters.
A job with a $7 million salary is offered to Robert if he'll push Stanton's contract through the appropriations committee. What in the world has our Senator gotten into?
With Ojai in disarray, Robert attends a dinner in Kitty's stead. A dinner Bill Stanton is at. Stanton knows Robert is up to something, at least to a degree, with Joe Rawling.
He flatly tells Robert to back off or he'll destroy Kitty. If Brothers & Sisters spoilers are to be believed, Robert is getting in over his head, and we're fearing for the worst.
Normally, Sen. McAllister is Mr. Cool. You cannot faze him. But this clearly has. Stanton's threat has him unsure of his next move, and the internal conflict is palpable.
In the closing moments, the lights go off at Ojai. Will they go out on Robert next week in a different sense? What did you think of last night's episode?
Steve Marsi is the Managing Editor of TV Fanatic. Follow him on Google+ or email him here.