If the final week of competition on Dancing with the Stars was supposed to be a coronation of Nicole Scherzinger, rather than a competition, no one told her ... or Erin Andrews.
Rather than just playing it safe, heavy favorite Nicole went for some of the boldest moves in the show's history, while long shot Erin raised her game to tie Nicole on the night.
Evan Lysacek finished third, but only three points behind the lovely ladies. So which talented dancer will win the prized Mirror Ball title on the final results show this evening?
Our guess is still Nicole Scherzinger and Derek Hough. This tandem has been the best all season long, has remained popular with viewers and certainly didn't stumble Monday.
Just the same, Erin Andrews and Maksim Chmerkovskiy started off the night with a Samba that netted them a very nice 29 - ahead of both Evan and Nicole's respective 28s.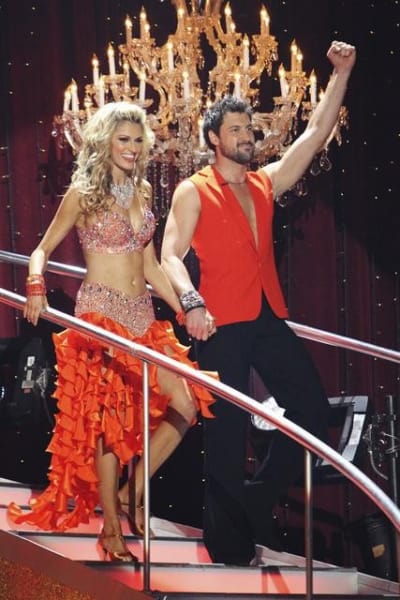 Can Erin Andrews and Maksim Chmerkovskiy pull the upset?
In the freestyle round, Erin and Maks scored a 26, giving them 55 total. Nicole made up ground with a 27, tying Erin at 55. Evan faltered a bit with a 24 and a total score of 52.
The final dance of Week 10, and the season, may be the tipping point for Scherzinger. Her freestyle was so demanding and great that voters may reward it more than judges.
All in all, it was a pretty fun ride, especially with Erin giving voters something to think about. Nicole will probably win this thing, but at the very least, people will think twice.
The ESPN reporter's dancing has gotten so much better each week, it might even net her the crown. She and Maksim are by far the most engaging and easy on the eyes, too.
Follow the jump for last night's full scoreboard ...
The scores from the final week of competition:
Erin Andrews & Maksim Chmerkovskiy: Samba: 29. Freestyle: 26. Total: 55.
Nicole Scherzinger & Derek Hough: Rumba: 28. Freestyle: 27. Total: 55.
Evan Lysacek & Anna Trebunskaya: Waltz: 28. Freestyle: 24. Total: 52.
Who do you think will win Dancing with the Stars tonight?
Steve Marsi is the Managing Editor of TV Fanatic. Follow him on Google+ or email him here.